10 (Personally Tested!) Ways to Earn an Income from Home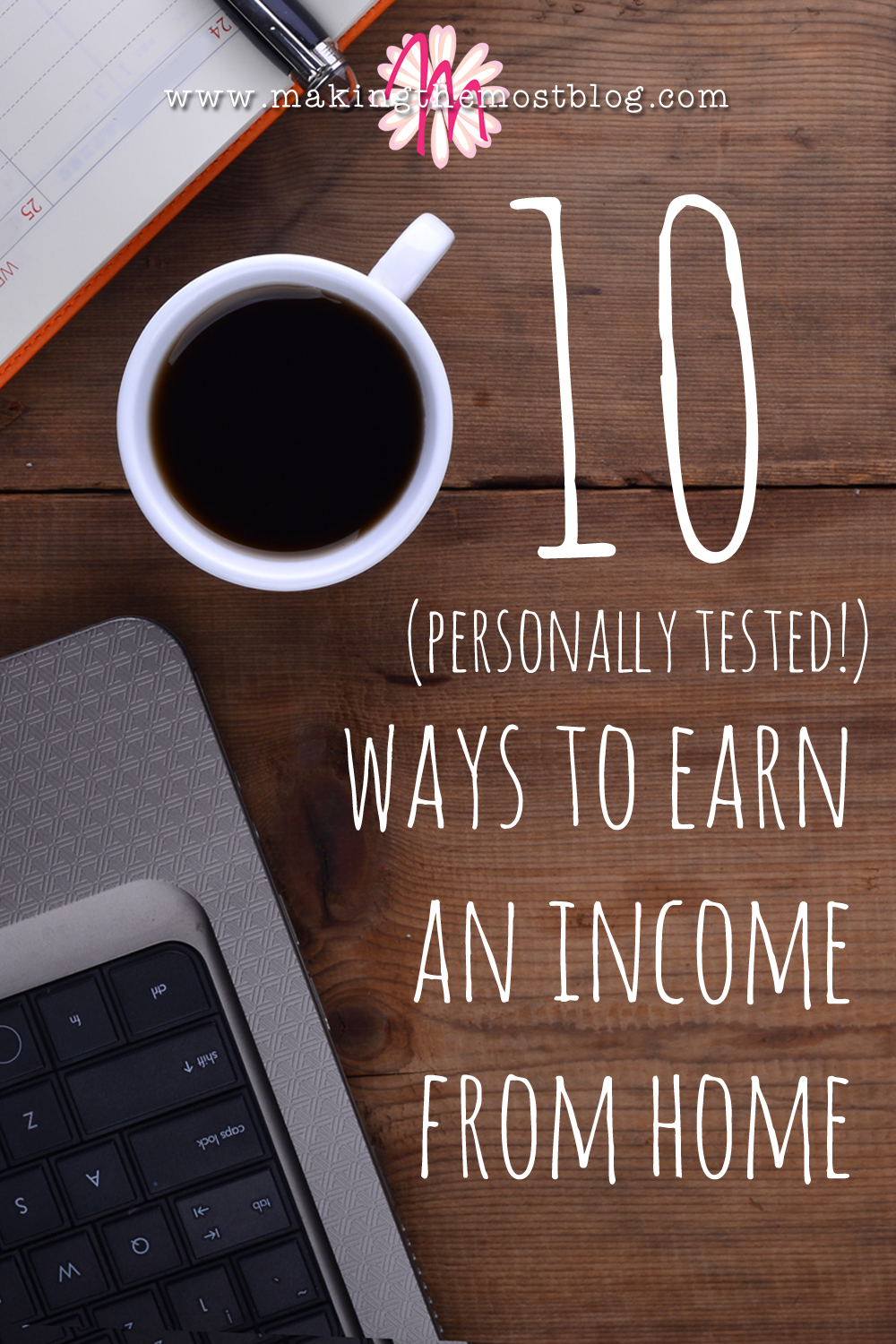 About one year and four months ago, I left my traditional part-time job to pour myself into the writing of my very first book, Courageous: Living the Fearless Life God Intended, which released on April 29, 2016. Since the completion of the book (actually since before I started it, now that I think about it), I have been seeking various ways to earn an income that doesn't not involve traditional full-time work outside the home. The ultimate dream is to start investing in stocks, but we will need some help from Stocktrades before we try that! We tried that before, and we find it best for our family that I not be employed full-time outside of the home–at least at this point in our lives while the kids are younger and we have a lot going on. That being said, even though I cannot work outside the home full-time at this point, we still need an extra income. I can't tell you how many places I have looked for non-traditional or even part-time employment. Inside the home, outside the home, online, direct sales, etc. Some ways work better for some than others, but regardless, my point is that if you cannot work traditionally full-time outside the home but need some income, there are options. For example, one of my friends has managed to make money from online gambling. Although a large element of gambling success comes down to luck, there are strategies that can enhance your chances of winning big. If you would like to learn more about online casinos that offer enticing bonuses click here. For now though, here are some of the things I've tried that might work for you:
Blogging – Okay, of course, this is my number one money-making idea, because I've had this blog since 2012, and I love it. I haven't made significant income off of it yet, but that's okay. The potential is there to make a lot of money or a little bit of money with blogging. It depends on how much time and effort you have (or want) to put into it. And of course, along with blogging comes multiple smaller streams of income like ad sales, affiliate revenue, etc. If you are hoping to start your own blog in the near future, you may find visiting https://www.hostiserver.com/ to be helpful when researching your web hosting options. Similarly, becoming an influencer on social media platforms, like Instagram, is another option. This can be done from home and can give people the chance to work with a number of businesses. In order to become an influencer, people do need a significant number of followers. By using the services offered by Nitreo, a trusy alternative, Instagram accounts can experience growth in followers and engagement, helping to build their audience. From there, more brands should want to work with you, paying you for partnerships and collaborations. Blogging and influencing are similar, so it's up to you which one suits you best.
Writing a book – Naturally, this is also at the top of my list. While I haven't seen any revenue from my book yet (it takes 6 months to see revenue through my publisher–oy), I still anticipate seeing income from this for some time as word continues to spread about the book. I love the idea of putting the time in once and seeing the payout for a long time afterward. I've heard that Kindle ebooks are the way to go, so that is also a great option to consider.
Selling your belongings – Within reason, this can be a great source of short-term income. Whether you have a yard sale, sell things on ebay, or sell them on Craigslist or Craigslist Alternatives, you have the potential to make a decent amount of money within a short period of time. If you can believe it, you can even sell your old, broken, cell phones on eBay for parts! I made 10 dollars off of a completely broken phone. Or even taking the phone to a Phone repair store could get the device back to a resellable condition. So when it comes to selling it, you might make more money than if the phone was broken.

If there are items in your house that you don't use anymore, consider selling them for some quick, extra cash.

Virtual Assisting – I know it sounds too good to be true, but there are some websites out there that legitimately offer virtual assistant work. Right now I'm doing some work for Time, etc. While they don't pay as much as I've made before being an Administrative Assistant, I have the freedom to choose the work I do and the hours I work. I enjoy the work I'm doing and the people I work for. I legitimately get paid once a month, and it sure beats working outside the home for pennies. I've also heard good things about Worldwide 101. Check out Pinterest for extensive lists of legitimate virtual assistant opportunities.
Freelancing – Right along with virtual assisting comes freelancing. It is important that you contact Dave Burton to learn more about paying taxes as a freelancer. I've done the research for college students, written reports, edited papers, and built websites all for extra side money. I manage when I work and who I work for and what I do. While everything I've done was through Craigslist or word-of-mouth, you can also check out fiverr, Upwork, and Amazon Mechanical Turk.
Selling Digital Products – I don't get to to this often, but I love creating digital products that people can use in their everyday lives. I've made invitations and thank you cards as well as printable goal-setting worksheets. My first year, I made over $1,000 selling digital products. I loved the passive income from this and not having to send anything to the printer.
Creating art and decor – This is something I've been meaning to do, but I haven't finished any projects yet. I've created some wreaths for my own home, and if I would purchase a booth at a craft fair or other vendor event, I could probably make some good side money off of this. You can also find some old, worn-out furniture for free or cheap and refurbish it and sell it for a much higher price.
Fulfillment by Amazon (FBA) – Honestly, I do not have this down to a science. I've done this once and didn't make out very well with it. Some people are awesome at it. It's worth taking a look. There are lots of posts on Pinterest that can guide you into making good money from this opportunity.
Direct Sales – I've tried this a couple of times. Sometimes I do amazing. Sometimes I stink. I just don't have the time in my calendar to do parties, and I am terrible at asking people to buy all the time. However, one of my best friends (and a few of my other good friends) make some good money off of direct sales companies like Thirty-One, It Works, and Younique. If this is up your alley, definitely take a look.
Delivering newspapers – This is definitely not a glamorous job, but in some areas it pays well. For those who have kids at home and someone to stay with them while they are sleeping, this is a great opportunity to make some money while your kids are still in bed.
If you ever feel that you are making enough money from the freelancing or the selling of digital products that you find it hard to keep up with the expenses that are coming and going then you may need to look into salesforce quickbooks integration as it can streamline your accounting while improving customer relationship management. Of course it takes time, effort, and sometimes a lot of hard work to make a full-time income from some of these if you're looking to replace a full-time income. But if you're just looking for part-time income where you can work from home, these are all opportunities I've tried that do work. If you want or need to stay home with your kids but need a little something on the side, look no further. It is possible to make money from home. Keep an eye out for upcoming reviews of some of these opportunities. In the meantime, please take the time to comment below: how do you make extra income from home?