48 Books I Read in 2016 (And the 3 That Changed My Life!)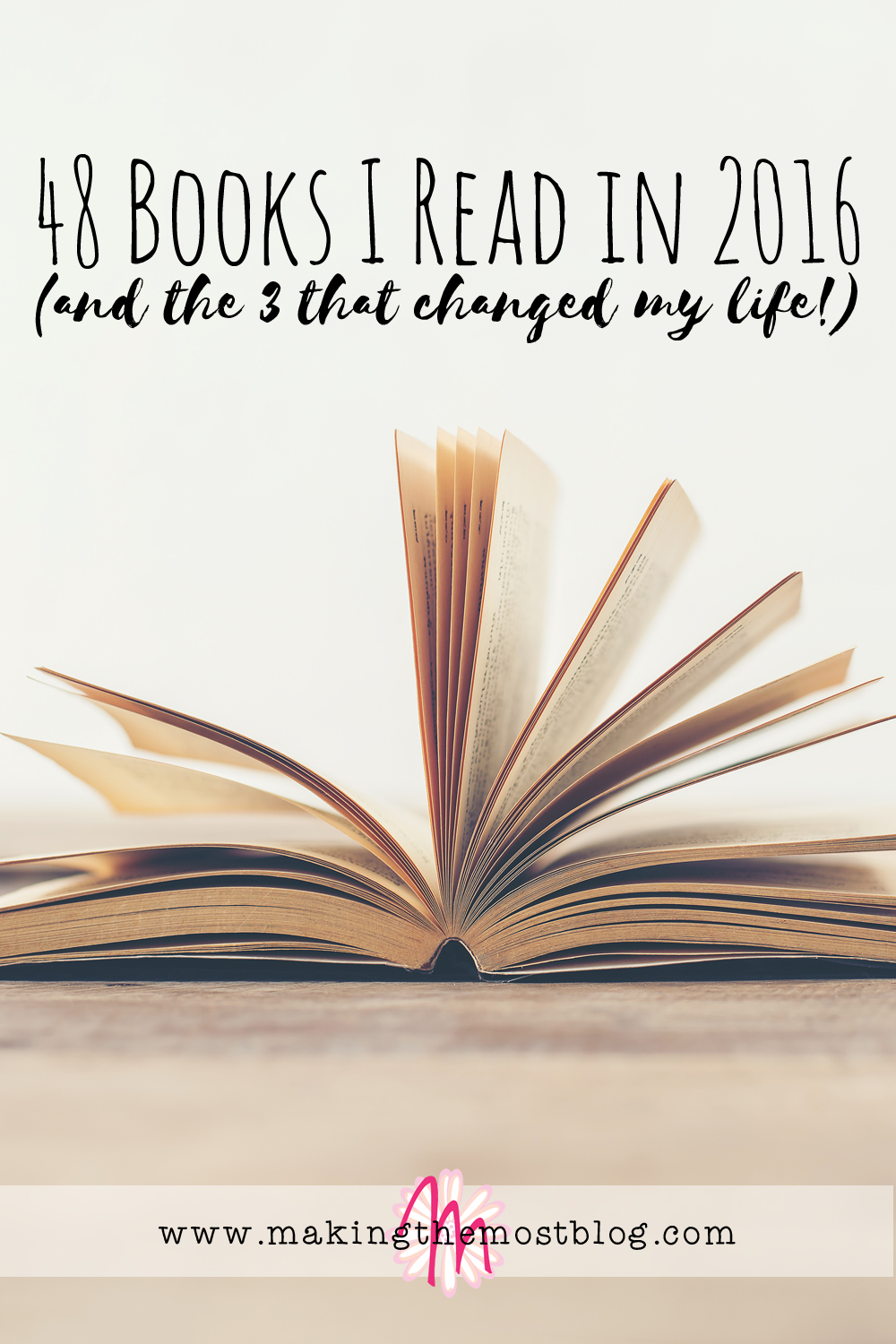 At the beginning of 2016/end of 2015, I announced that my goal for 2016 was to read 24 books–two books a month.  While I didn't blow my goal out of the water with 66 like last year, I still was able to get a lot of reading done and ended up doubling by goal by reading 48 books.
As a recap, here are the books I completed in 2016:
Animal Farm by George Orwell
The Scarlet Letter by Nathaniel Hawthorne
Where Is God When It Hurts? by Philip Yancey
Make It Happen: Surrender Your Fear.  Take the Leap.  Live on Purpose.  by Lara Casey
Mere Christianity by C.S. Lewis
The Problem of Pain by C.S. Lewis
The Externally Focused Church by Rick Rusaw
Breaking Busy: How to Find Peace and Purpose in a World of Crazy by Alli Worthington
Smashwords Book Marketing Guide by Mark Coker
Crazy Little Thing Called Marriage: 12 Secrets for a Lifelong Romance by Greg & Erin Smalley
Go Set a Watchman by Harper Lee
Letters to My Daughters: The Art of Being a Wife by Barbara Rainey
The Daniel Plan Jumpstart Guide: Daily Steps to a Healthier Life by Rick Warren
The Homeschool Guide: Everything You Need to Know for Successfully Homeschooling Your Children by Vanessa Bilotta
Healing ADD: The Breakthrough Program That Allows You to See and Heal the 6 Types of ADD by Daniel G. Amen
Myths and Misunderstandings of ADD and ADHD: Non Hyperactive ADD and Hyperactive ADHD in Children and Adults: Misunderstood, Misdiagnosed and Missed Opportunity by Robert Scott
Book Marketing is Dead: Book Promotion Secrets You MUST Know BEFORE You Publish Your Book by Derek Murphy
The Fantasy Fallacy: Exposing the Deeper Meaning Behind Sexual Thoughts by Shannon Ethridge
Looking for Lovely: Collecting the Moments That Matter by Annie F. Downs
The Reason for God: Belief in an Age of Skepticism by Timothy J. Keller
Hope Unfolding: Grace-Filled Truth for the Momma's Heart by Becky Thompson
5 Minutes with Jesus by Sheila Walsh
Beauty Begins: Making Peace with Your Reflection by Chris Shook
The Longing in Me: How Everything You Crave Leads to the Heart of God by Sheila Walsh
Giddy Up, Eunice: Because Women Need Each Other by Sophie Hudson
Heart Made Whole: Turning Your Unhealed Pain Into Your Greatest Strength by Christa Black Gifford
Chase the Lion: If Your Dream Doesn't Scare You, It's Too Small by Mark Batterson
Becoming a Woman of Excellence by Cynthia Heald
Raising a Young Modern-Day Princess: Growing the Fruit of the Spirit in Your Little Girl by Doreen Hanna
Uninvited by Lysa TerKeurst
Undefiled by Harry Schaumburg
The Happiness Dare: Pursuing Your Heart's Deepest, Holiest, and Most Vulnerable Desire by Jennifer Dukes Lee
A Grief Observed by C.S. Lewis
Unreasonable Hope: Finding Faith in the God Who Brings Purpose to Your Pain by Chad Veach
I Will Carry You: The Sacred Dance of Grief and Joy by Angie Smith
If: Trading Your If Only Regrets for God's What If Possibilities by Mark Batterson
Manage Your Day-To-Day: Build Your Routine, Find Your Focus, and Sharpen Your Creative Mind by Jocelyn K. Glei
Whatever the Cost: Facing Your Fears, Dying to Your Dreams, and Living Powerfully by David and Jason Benham
How to Be Rich: It's Not What You Have.  It's What You Do With What You Have by Andy Stanley
She Reads Truth: Holding Tight to Permanent in a World That's Passing Away by Raechel Myers and Amanda Bible Williams
One in a Million: Journey to Your Promised Land by Priscilla Shirer
Social Media Marketing Workbook: 2016 Edition – How to use Social Media for Business by Jason McDonald
Sparkly Green Earrings: Catching the Light at Every Turn by Melanie Shankle
Blog, Inc.: Blogging for Passion, Profit, and to Create Community by Joy Deangdeelert Cho
Digital Minds: 12 Things Every Business Needs to Know About Digital Marketing by WSI
Understanding Digital Marketing: Marketing Strategies for Engaging the Digital Generation by Damian Ryan
Out of all of these books, there were only three this year that stood out as influential books, although majority of the books regarding digital marketing platform and social medias did help also.  These are books that I am constantly recommending to others, that I will continue to read again and again, and whose messages impact my life daily.  I have listed them below with one sentence that describes their influence on my life and/or how you will be changed by reading them.  I hope you'll allow them to impact your life in 2017.
Mere Christianity by C.S. Lewis
Despite the fact that I've been a Christian for 25 years, my eyes were opened to so many facets of the Christian faith through C.S. Lewis' explanations.
The Reason for God: Belief in an Age of Skepticism by Timothy J. Keller
This book really helped me to understand the objections to Christianity and how to respond to them.
If by Mark Batterson
"If" is such a powerful word, and if used in the right context can open up the doors to many wonderful opportunities.
What about you?  Did you read any life changing books this year?  I'd love for you to share them with me in the comments!