Bean and Cheese Quesadillas
Here's another recipe that we had recently.  I found this one at Parents magazine.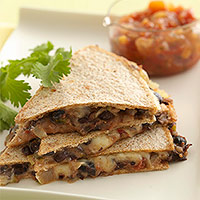 Ingredients:
 1 tablespoon olive oil
 1 small onion, finely chopped (we used half of a large one, because that's what we had)
1/2 small green pepper, seeded and chopped (we only had a large one, so I just used half of that)
1 15 ounce can black beans, drained and lightly mashed
1/2 cup lower sodium salsa
1/2 teaspoon chili powder
1 package (10-count) fajita-size flour or whole-wheat tortillas (I made two quesadillas with whole wheat tortillas and one with flour tortillas)
8 ounces reduced-fat pepper Jack cheese, shredded (we didn't have any, so I used 4 ounces of Mexican blend cheese that we had lying around and 4 ounces of cheddar to minimize spiciness)
1/2 cup cilantro leaves (we skipped on this, because I'm not a huge fan of cilantro in large amounts)
Extra salsa for serving (optional)
Instructions:
1. Heat oil in a large nonstick skillet over medium-high heat. Add onion and green pepper and cook for 4 minutes, stirring occasionally. Stir in beans, salsa, and chili powder. Cook for 3 minutes, stirring occasionally.
2. Spray a large nonstick skillet with cooking spray. Place over medium-high heat. Place one tortilla in the skillet and cook for 1 minute. Spread 1/3 cup of the bean mixture and 1/3 cup of the cheese evenly over the tortilla. Sprinkle some of the cilantro over the top. Place another tortilla on top, and cook for 1 minute. Press gently with a spatula and turn. Cook for 1 minute or until browned.
3. Place quesadilla on a baking sheet and keep warm at 250 degrees in the oven. Repeat with the remaining ingredients to make additional quesadillas. Allow skillet to cool slightly if it becomes too hot.
4. To serve, cut each quesadilla into quarters. Serve 3 quarters to each person.
Servings Per Recipe: 6; Amount Per Serving: cal.(kcal): 312, Fat, total(g): 13, chol.(mg): 23, carb.(g): 34, fiber(g): 5, pro.(g): 16, sodium(mg): 786, Percent Daily Values are based on a 2,000 calorie diet.
Princess Anna and Rapunzel weren't a big fan of this one, but Prince Charming and I enjoyed it.  Rapunzel insisted it was too spicy; however, I'm pretty sensitive to spicy, and this didn't bother me at all.  I'd probably make it again, and I think Wendy and Cinderella might like it too.