Crock-Pot Bacon & Cheese Potatoes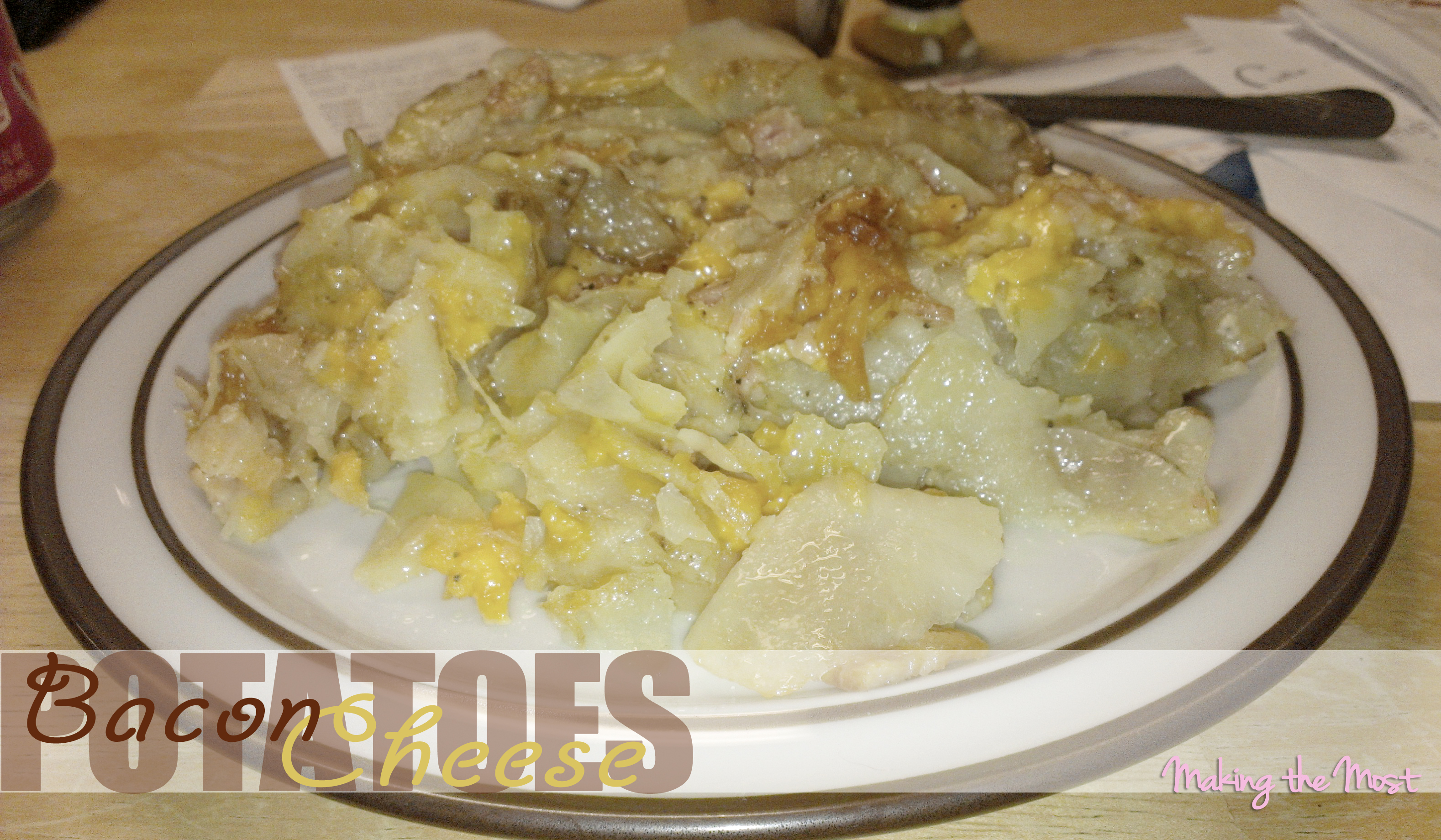 Prep time: 10 mins
Cook time: 9 hours
Total time: 9 hours 10 mins
Ingredients:
¼ pound bacon, diced (we used Oscar Meyer, because it was on sale)
2 medium onions, thinly sliced (I actually only used 1 medium yellow onion for a doubled recipe, since our family is a little picky about their onions.
4 medium potatoes, thinly sliced (we used white potatoes for this recipe, because they were on sale)
½ pound cheddar cheese, thinly sliced (we just used the generic brand of block cheese and sliced it in the food processor)
salt and pepper
butter (I used one tablespoon on the first layer and one on the second)
Green Onions (optional–we didn't use it, because my kids would have had a cow)
 Instructions:
Line crockpot with foil, leaving enough to cover the potatoes when finished.  If you're like me though, doubling the recipe in our crockpot wouldn't work like this.  I used one as a liner across the bottom and then cut a sheet to cover the top separately.
Layer half each of the bacon, onions, potatoes and cheese in crockpot. Season to taste and dot with butter.  I used a little bit of salt and pepper and cut the butter into 6ths, dropping the chunks of butter evenly on each layer.
Repeat layers of bacon, onions, potatoes and cheese. Dot with butter.
Cover with remaining foil.
The recipe says to cover and cook on low for 10-12 hours.  Since I didn't wake up early enough to cook for 10-12 hours, I cooked on low for 9 hours, and it turned out just fine.
The family thoroughly enjoyed this meal, though next time I might only add half of an onion (at least one kid was picking them out).  This also isn't the healthiest meal, but it sure was filling and it sure was good!