Reading List Review: October-November 2016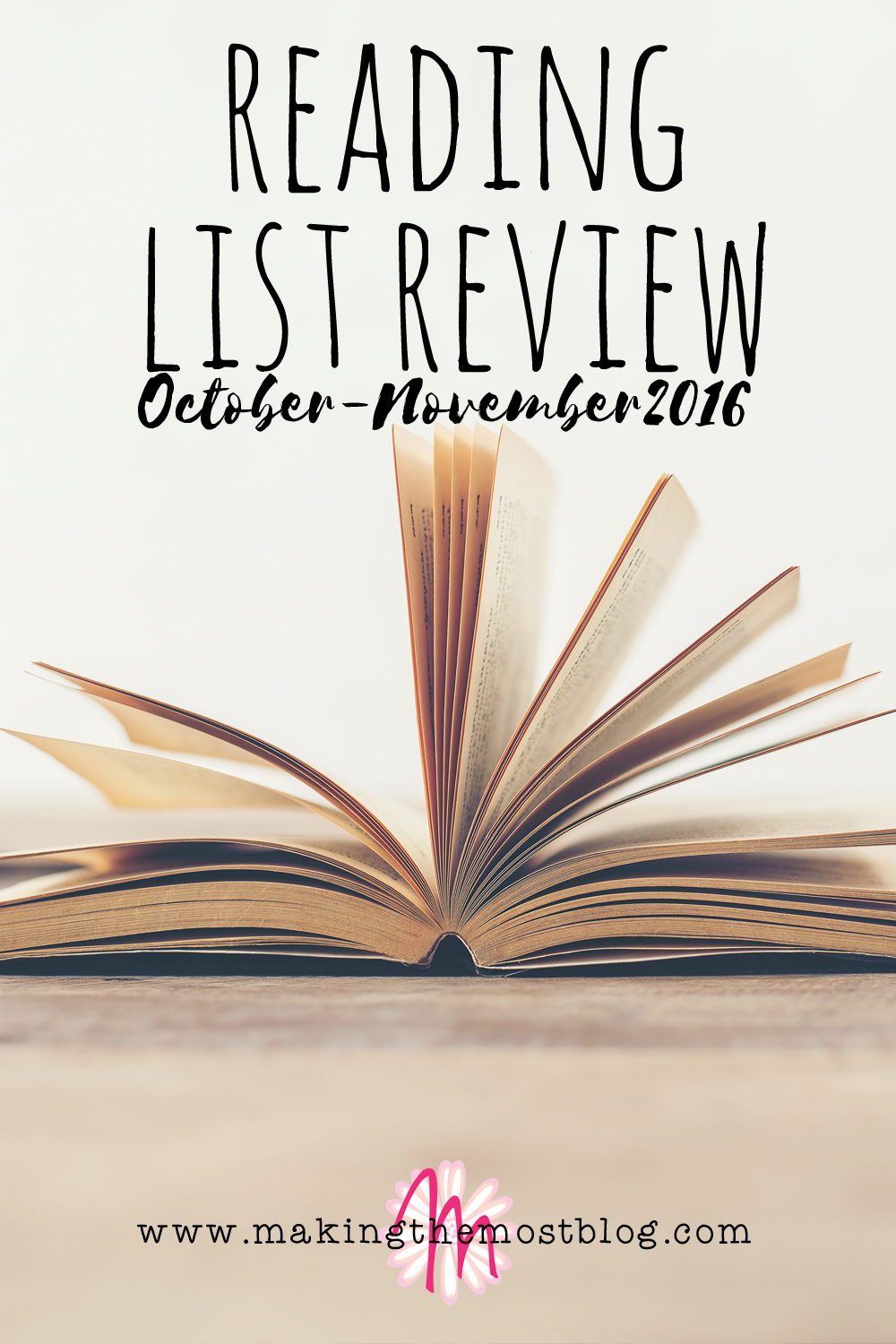 This month I was really focused on educational reading as you'll find when review what I'm currently reading. While I did read quite a few general non-fiction books I also spent a lot of time working through some in-depth marketing books to boost my skills. They take a little longer for me to read.
This month I'm still doing some more educational reading, but I also have one fiction novel to read (*gasp*) as well as several other general non-fiction once again. A hodge podge. Well, without further ado…
Here's what I read during the month of October & November (click links for the review):
If: Trading Your If Only Regrets for God's What If Possibilities by Mark Batterson
Manage Your Day-to-Day: Build Your Routine, Find Your Focus, and Sharpen Your Creative Mind by Jocelyn K. Glei
Whatever the Cost: Facing Your Fears, Dying to Your Dreams, and Living Powerfully by David & Jason Benham
I Will Carry You: The Sacred Dance of Grief and Joy by Angie Smith
How to Be Rich: It's Not What You Have. It's What You Do With What You Have by Andy Stanley
She Reads Truth: Holding Tight to Permanent in a World That's Passing Away by Raechel Myers and Amanda Bible Williams
One in a Million: Journey to Your Promised Land by Priscilla Shirer
Social Media Marketing Workbook: 2016 Edition – How to Use Social Media for Business by Jason McDonald
What I'm Reading Now:
Blog, Inc.: Blogging for Passion, Profit, and to Create Community by Joy Deangdeelert Cho
Digital Minds: 12 Things Every Business Needs to Know About Digital Marketing by WSI
Understanding Digital Marketing: Marketing Strategies for Engaging the Digital Generation by Damian Ryan
Sparkly Green Earrings: Catching the Light at Every Turn by Melanie Shankle
Stunned by Grief: Remapping Your Life When Loss Changes Everything by Judy Brizendine
Saffire by Sigmund Brouwer
God Will Make a Way by Dr. Henry Cloud & Dr. John Townsend
Looking Forward to Reading:
DNA of Relationships by Gary Smalley
The Promise of Security by Beth Moore
In Between by Jenny B. Jones
The Promises of God by R.C. Sproul
Reimagining Church by Frank Vida
The Seeds of Beauty by Lakeysha-Marie Green
Fun Loving You by Ted Cunningham
Follow Me? by David Platt
The Beginning by Karen Kingsbury
Boundaries with Teens by John Townsend
Praying Circles Around Your Children by Mark Batterson
Too Blessed to be Stressed by Debora M. Coty
Kingdom Woman by Tony Evans
Rising Strong by Brene Brown
4 Seasons of Marriage by Gary Chapman
The Girl on the Train by Paula Hawkins
Vertical Church by James MacDonald
Is the Bible True…Really? by Josh McDowell
Devotions I'm Reading This Year:
Praying God's Word Day by Day by Beth Moore
What did you read last month?