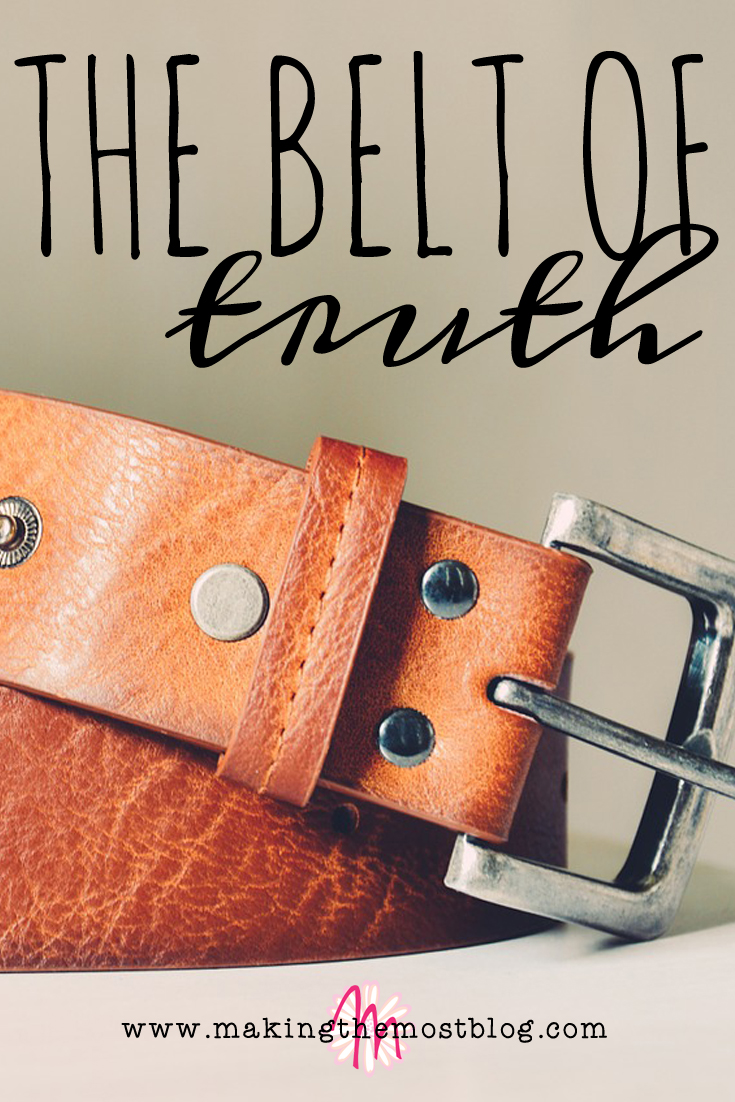 Last week I talked to you about the importance of putting on our armor as we prepare for each day in fighting spiritual battles.  This week, and for the next few weeks, I'll be discussing each piece of armor and why we need each one.  Just like each of us is an important part of the body of Christ, each piece of armor is an important part of both our offense and defense against Satan.
In Ephesians 6: 14, Paul commands us to "Stand firm then, with the belt of truth buckled around your waist."
So what exactly is the purpose of a belt?
According to my good friend Merriam-Webster, the primary definition of a belt is "a strip of flexible material worn especially around the waist as an item of clothing or a means of carrying something (as tools)."
In reference to armor, the belt is what holds the scabbard, the protective covering that "carries" the sword.  In a sense, our belt prepares us to carry our sword.  If you don't have your belt on, you can't carry your weapon.  If you remember, the sword of the Spirit (the Word of God) is what goes into that scabbard, and you can't be without that.  That is our primary offensive weapon in our spiritual fight.  If you don't know the truth ( by wearing the belt), you can't fight your battles properly (by bringing along your sword).
So what is truth?
The Word: In John 17:15, Jesus prays for His disciples, asking God that He protect the disciples from the evil one, that they be sanctified (made holy) by the truth–God's word.  We can be made holy with God's word.
Jesus: In John 14:6, Jesus says, "I am the way, the truth, and the life."  The only way to our Father is through Jesus, the truth.
As we cloak ourselves in God's Word and with Jesus, we are dressing ourselves with truth.  But it's not enough to just know these things.  That's just like checking out the belt but not putting it on.  Actually putting on the belt is believing God's Word and believing in His Son.
So we know that Satan is a liar, right?  He deceives us by telling us we're no good, we can't do anything right, we're unqualified, stupid, ugly, etc.  He makes us insecure and tears us down so we can't do God's work.  If He can cloud our vision with these insecurities, he can bring doubt to the truth, leaving our defenses powerless.
That's why we need to be rooted and grounded in Christ.  For it is only by knowing and believing the truth can we then fight with God's Word.
What do we do when we're not sure what is the truth and what is not?
"Test them all; hold on to what is good." – 1 Thessalonians 5:21
Test your problems and situations against God's word.  If your situation conflicts with God's Word, steer clear.
If you're still not sure, run your situation by some wise mentors.  Pray.  Consult the Holy Spirit.  When the Holy Spirit is present within you, "whether you turn to the right or to the left, your ears will hear a voice behind you, saying, 'This is the way; walk in it.'" (Isaiah 30:21)  God has given you the tools to know, understand, and believe His truth.
Don't doubt, but instead know and believe in Him and His Word, and you'll be well on your way to a winning battle.