Daniel Plan Whole Wheat Pancakes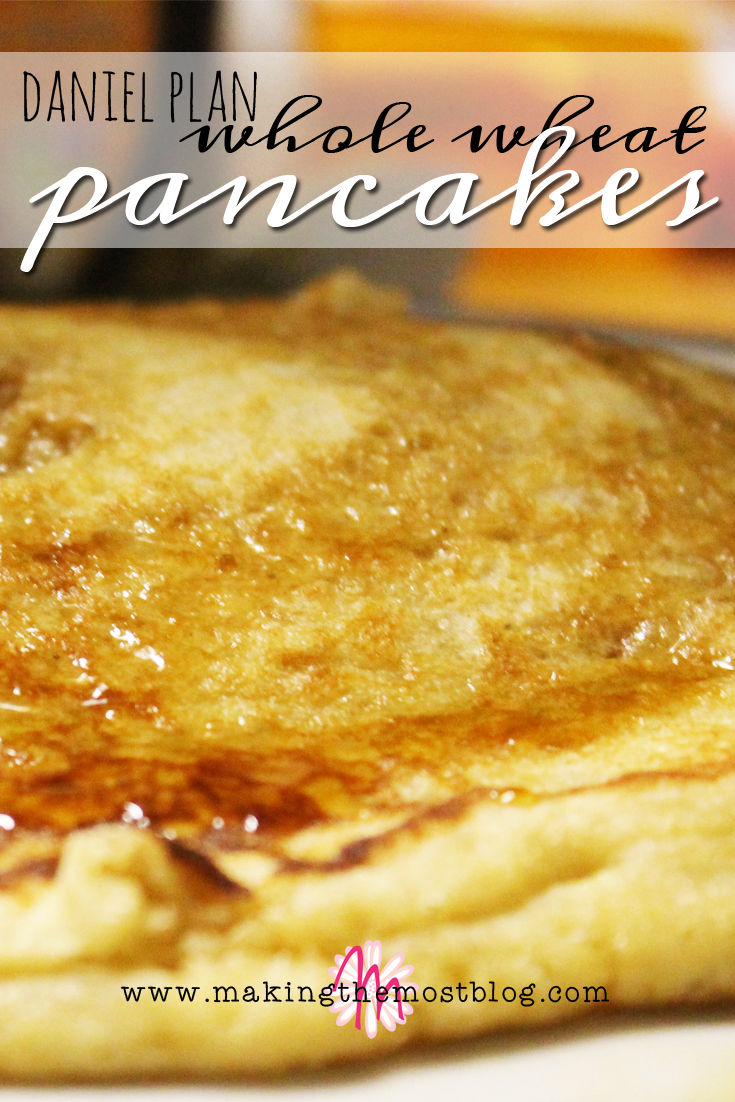 Since I began the Daniel Plan, I've been searching out all sorts of organic or whole foods recipes that I can eat that are plan acceptable while also delicious.  At first, I was afraid I would end up starving myself due to a lack of options, but I quickly found out differently.  Even "breakfast for dinner" can be enjoyable on the Daniel Plan!
While searching for breakfast options, I soon came across an organic option for pancakes.  I have to admit that I was a little bit nervous about trying these at first, but we were pleasantly surprised!  Not only did I love them, but so did my whole family!  I think this is one recipe that I'll continue to use no matter what diet plan I'm on.
And what's even better is that each pancake is only about 215 calories, and they are so filling that you'll only need about two before feeling full (and this is coming from someone who likes to eat).  I hope you enjoy these pancakes as much as I do!
Here's what you need:
3 cups whole wheat pastry flour
1 1/2 teaspoons sea salt
1 1/2 teaspoons double acting baking powder with no added aluminum
3/4 teaspoon pure baking soda
2 1/4 cups buttermilk
3/4 cup milk
3 eggs, separated
6 tablespoons unsalted butter, melted
Olive oil cooking spray
Here's what you do:
Whisk together flour, salt, baking powder, and baking soda in a large bowl.
In a separate bowl, whisk together buttermilk, milk, and egg whites.
In a small bowl, whisk together egg yolks and melted butter.
Pour melted butter and yolks into milk mixture
Whisk to combine.
Pour this liquid mixture into flour mixture.
Whisk until just combined.
Heat a large pan over medium-high heat.
Spray pan with cooking spray.
For each pancake (makes about 10), pour 1/4 c. of pancake mix onto pan.
Flip pancakes when bottoms are golden brown.
Continue to cook until both sides are golden brown and there is no raw mix remains in the middle.
Serve immediately and cover with your choice of toppings (we absolutely LOVE Wholesome Sweeteners Organic Pancake Syrup).
If you liked this recipe, you'll probably also love my Savory Daniel Plan Chicken Bites!