Finding Gratitude in the Midst of Turmoil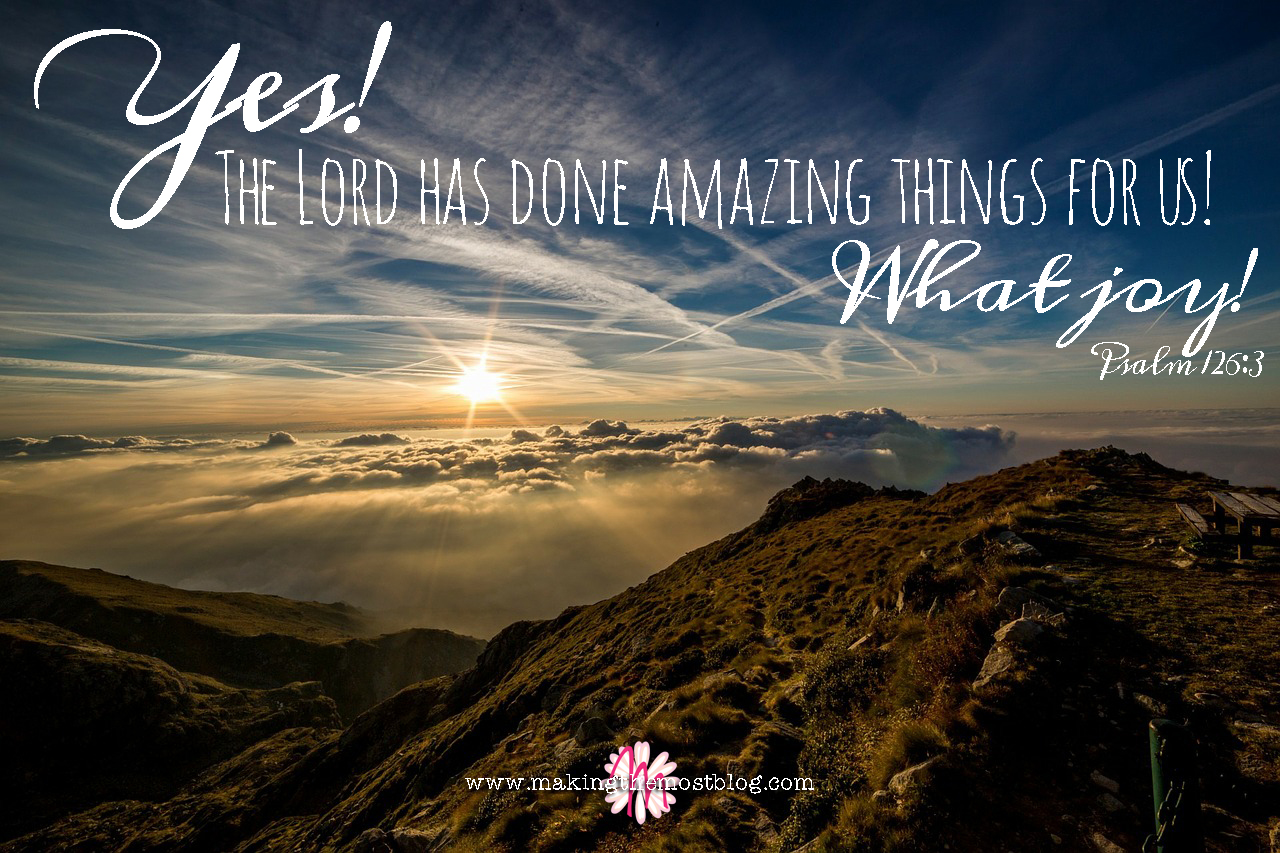 "Yes!  The Lord has done amazing things for us!  What joy!"
– Psalm 126:3
When I read this verse today (and presumably when I highlighted it), I immediately thought of everything that God has done in our lives.  You almost can't help it when you read this verse.  The excitement with the exclamation!  The word choices!  You can't help but get excited too!
It is true that we're struggling financially right now.
And it's true that we've had to make major changes in our lives over the last year, and it has truly been tough.
And it's so hard for me not to complain.  Ask my sister–or my husband, for that matter: I have a more negative outlook on things than some other people.  And sometimes I complain more than I should.  (Oops.)  It's just that some days the grass really looks a lot greener on the other side…
But at the end of the day, we have so much to be thankful for, don't we?
I'm reminded of this whenever I pray, because I make it a point to thank God for my blessings at the beginning of my prayer, and it ends up being a long list (and I cut it way short).  Here are just a few of the amazing things God has done in our lives:
We have amazing and wonderful friends, family, and a church that loves and supports us.
We have a roof over our heads, food in our cupboards, and clothing in our closets.
We have two beautiful, smart, and well-behaved girls at home.
I have a husband who loves me (even though he doesn't always show it how I think he should).
We have money in the bank (however small the amount, it's still in there).
We have two vehicles that work.
My husband is working.
I am so blessed to be at home with my kids.
God shows us His presence in many amazing different ways.  These are just the physical things that He has blessed us with, but there are so many more intangible things that He has given us that our list could go on forever!
Think about it today.  Even though the storms may be troubling you right now, what joy can you see in your life?  What amazing things has God done for you?  Share them in the comments.  I'd love to hear how God is blessing you.