Don't Give Up: A Lesson in Perseverance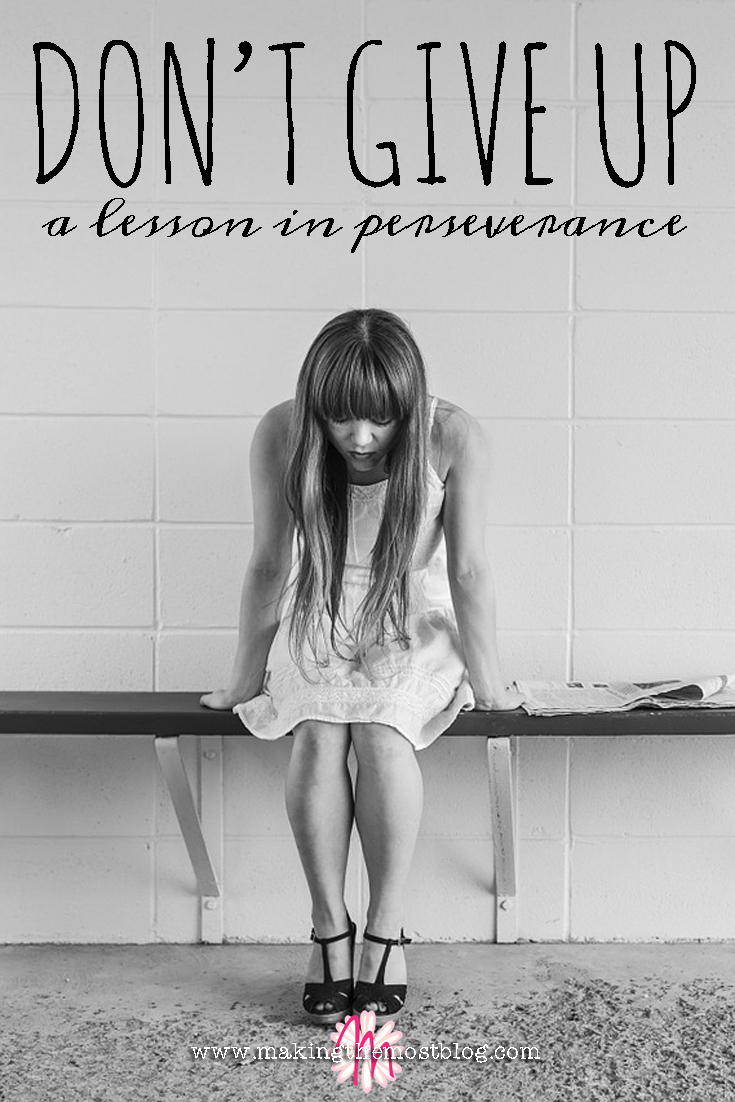 Lately, I really feel like God has really been putting the topic of persistence on my heart.  It first came up when I read the parable of the persistent widow in Luke 18:2-6.  Here's how my Bible reads:
"…In a certain town there was a judge who neither feared God nor cared what people thought.  And there was a widow in that town who kept coming to him with the plea, 'Grant me justice against my adversary.'
For some time he refused.  But finally he said to himself, 'Even though I don't fear God or care what people think, yet because this widow keeps bothering me, I will see that she gets justice, so that she won't eventually come and attack me!"
Jesus goes on to explain that God will bring justice for His people who cry out to Him.
I also really enjoy Matthew 7:7, which says, "Ask and it will be given to you; seek and you will find; knock and the door will be opened to you.  For everyone who asks receives; the one who seeks finds; and to the one who knocks, the door will be opened."
Galatians 6:9 says, "let us not become weary in doing good, for at the proper time we will reap a harvest if we do not give up."
I could go on and on about the verses in the Bible that emphasize persistence and perseverance, but let's take a look at them for what they are, shall we?
Persistence & Perseverance: What are they?
Definitions as according to Merriam-Webster dictionary online:
Persistence:
1) the quality that allows someone to continue doing something or trying to do something even though it is difficult or opposed by other people
2) the state of occurring or existing beyond the usual, expected, or normal time
Perseverance:
1) continued effort to do or achieve something despite difficulties, failure, or opposition :  the action or condition or an instance of persevering :  steadfastness
In essence, persistence and perseverance appear to be the same thing: someone continuing to press onward despite difficulties, repeated failures, or opposition, beyond a usual, expected or normal time.  So if God's Word calls us to be persistent and to persevere…
What does that mean in your life?
1) Persistence in doing what is right: First and foremost, God calls us to do what is right.  Continue pressing onward and pushing forward, carrying out His will and His commands despite the difficulties you may face, the people who oppose you, or what seems to be repeated failure.  If you use God's Word as your instruction manual–if you live by it and use it to measure how you live your daily life–He is with you.  Persistence in doing what is right with a willing heart will bring you great rewards on Judgment Day.
2) Persistence in marriage: Nowadays, when divorce is prevalent, and relationships seem like something people throw away with the kitchen trash, it's hard to want to persist.  I think we all want to be in love and feel that "in love" feeling until we die next to our partner, but the truth is that it doesn't work like that.  The butterflies in the stomach may go away, but that doesn't mean that love is gone.  And I think that a lot of people now think that if the butterflies aren't there that they're not in love anymore.  I know this isn't the case for all marriages.  Some are trapped in verbal, sexual, emotional, and physically abusive marriages, and I don't have the solution for that.  But for the everyday marriage where you just might not "feel" like you're in love anymore, there's a solution.  There are tons of books out there and counselors that will help you rebuild your marriage.  Even if it feels like it's hard right now, don't give up now.  There is hope.  Please persist until the very last moment, because your marriage is so worth it.
3) Persistence in parenting: This is a toughie.  I don't know about you, but sometimes I feel like running away, because parenting is a tough job.  The dishes pile up, and the laundry piles up, there are toys all over the floor, one kid's crying, and the other one says he hates you.  Nobody prepared you for this.  Sometimes you want to be the Tasmanian Devil and throw away all the toys and take the kids down in your fury.  Other times you might just want to give in to whatever they want just so they'll stop whining.  Don't.  I know it's hard–believe me I do.  But keep your consistency in your discipline.  Set your boundaries, and keep them there.  Your kids might say they hate it now, but they'll thank you for it later.  Don't give up.  You're not alone.
4) Persistence at work: I know this can be tough too.  Especially if you're at a dead-end job that you hate, and you just want to give up.  I've been in that place where the boss is (literally) out to take you down, where the people who were supposed to support you have left you hanging out to dry.  Just do your best.  Do your work for Jesus, and He'll take care of the rest, whether that means a new job or a raise or just more joy in your job down the road, just do your best.  Don't stop giving it your all.
5) Persevering under fire: There are times when the whole world seems to be against you.  You may feel with your whole heart that God is calling you into a mission that no one understands.  I get you.  One hundred percent.  If you have spent your time measuring this call with God's Word, if you have spent time in counsel and prayer and fasting, and you still feel the Holy Spirit urging you to move forward…do it.  God will never harm you for fully and whole-heartedly serving Him.  You may run into roadblocks: people who ridicule you, lots of hurdles that you will need to cross, repeated failure.  Press onward.
Oh my goodness.  Whatever your situation, wherever you are in life, please don't give up.  Speak to God daily, carry out His will, and go for it.  Persist.  Persevere.
Don't.
Give.
Up.
Linking up at: