For the Love: A Book Review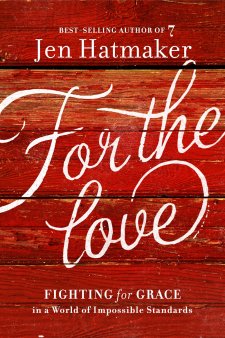 Disclosure: This post contains affiliate links, which means I receive a percentage of each sale when you make a purchase using these links; however, I fully support and recommend each of these products.  You can view my full disclosure policy here.
As a follower and fan of Jen Hatmaker's blog, I was most definitely ready to check out her latest book, For the Love: Fighting for Grace in a World of Impossible Standards. Obviously I have not followed Jen nearly long enough, because I never quite knew the depth of her humor.  I love Jen's writing style–so personal and genuine–and I often found myself (literally) laughing out loud and sharing tidbits of the book with whomever happened to be seated close by (whether they wanted it or not, of course).  Jen is so incredibly relateable as a mom, wife, and Christian, and I love that about her.
That being said, For the Love was nothing what I expected.  What I expected was a book that would help me realize God's grace right where I am.  I can't really say I found that.  I really loved the book, and I definitely realized some great ideas that I'd like to integrate into my own life.  But what I thought was a self-help book really ended up as a group of essays pieced together as Jen showed us what her own life looks like.  And that's great.  But like I said–not what I expected.
After having read For the Love, I find myself hungering even more for the answer I was looking for when I picked up the book.  While I'd most definitely recommend this as everyday reading whenever you need a laugh, it wouldn't be at the top of my list if I were to recommend a book to someone looking for the answer to finding grace in his/her own life.  When I find that book, I'll let you know.