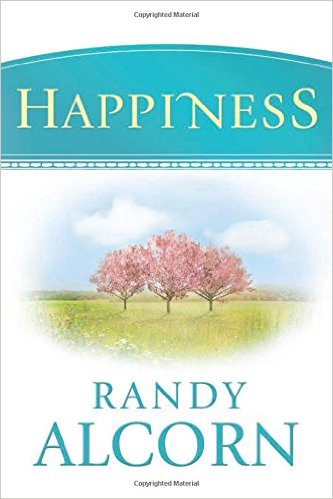 Disclosure: This post contains affiliate links, which means I receive a percentage of each sale when you make a purchase using these links; however, I fully support and recommend each of these products.  You can view my full disclosure policy here.
As someone who has struggled with depression for many years, I was excited to read the book Happiness by Randy Alcorn, hoping for some insight on how to gain and keep happiness.  What I was looking for, I suppose, was mostly strategic advice from someone who had been there done that who could share their experience in order that I could, too, transform my life.
What I found was well-written, yes, though not personal like my favorite authors.  Happiness is an incredibly long read, and before I even reached the middle I was sadly dreading picking up the book each day, as I felt I'd never make it through.  It wasn't an easy read, either, as it dug deep into the historical context of the word happiness and the translations of the word as well.  I feel this book would have been better had it been separated into a few different parts.  All of the information is valuable, though maybe not all in the same book.  It becomes very tedious reading–in fact, more like reading a text book than reading for enjoyment.
I did particularly enjoy the last portion of Happiness, which provided support for happiness in our own lives: why God wants us to be happy, etc.  This is more what I was expecting from the book.  I would say the first two sections of the book are solely educational.
I also felt as though readers don't receive much of the author's ideas throughout Happiness.  Most of the book is filled with research and quotes from other authors.  This is great for use in debates; however, I was looking for more ideas from the author himself rather than the ideas of everyone else.
I wouldn't normally suggest this, but for those seeking to find happiness in your own lives, check Happiness out from the local library and skip to the end.  On the other hand, if you yourself are doing research on happiness and what it means for the Christian life, this book is perfect for you.  You'll find the most thorough text on happiness in this book.  If you're looking for a more personal story, move on to something else.