Hope Unfolding: A Book Review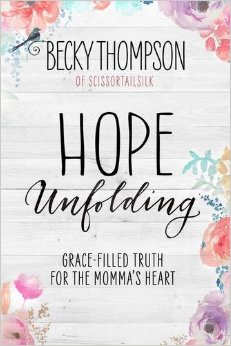 Disclosure: This post contains affiliate links, which means I receive a percentage of each sale when you make a purchase using these links; however, I fully support and recommend each of these products.  You can view my full disclosure policy here.
Hey all! I know it's been quite a while since my last book review what with my own book being released. But…good news for you…I have a stack of reviews to do, and I wanted to start with a relatively new release called Hope Unfolding by Becky Thompson over at Scissortail Silk.
Hope Unfolding is a book about living life to the fullest wherever we are and how God's plans are often different from our plans.  It's about living your best in the mess in whatever God has planned for you to the best of your ability.  Though I wouldn't say it's on my list of top life-changing books, Hope Unfolding provides good insight with a Christian focus while also giving us background into the author's life.
I love books that are relateable and that gives readers insight into the author's life.  Becky Thompson does both.  She provides stories that almost any mom can relate to and uses her ability to relate to help readers understand the concept she is trying to explain.  Thompson also allows us into her personal shortcomings so that she can be more relateable.  This is what makes an author trustworthy.
Not only is Hope Unfolding relateable but it is also interactive.  While I don't often have time to do all the activities in all of the books I review, this is something I personally enjoy when reading something for leisure.  It slows the reader down and allows them to think and apply concepts to their own lives.  This book does just that, provides a prayer, and also includes spaces for journaling.  I love this!
My biggest irritation throughout this book is that the author is constantly referring to her reader as "friend."  While this is great one or two times in a book, she does it over and over, and it drives me nuts.  Fortunately, this doesn't break the book.  Even though this isn't a book that I'd love to share with everybody, it is a good read, and I would endorse it if someone approached me about it.  If you're looking for a quick read, you can pick it up on Amazon.
For more information on Becky and her book, visit her website here.