Instant Happy Journal: A Review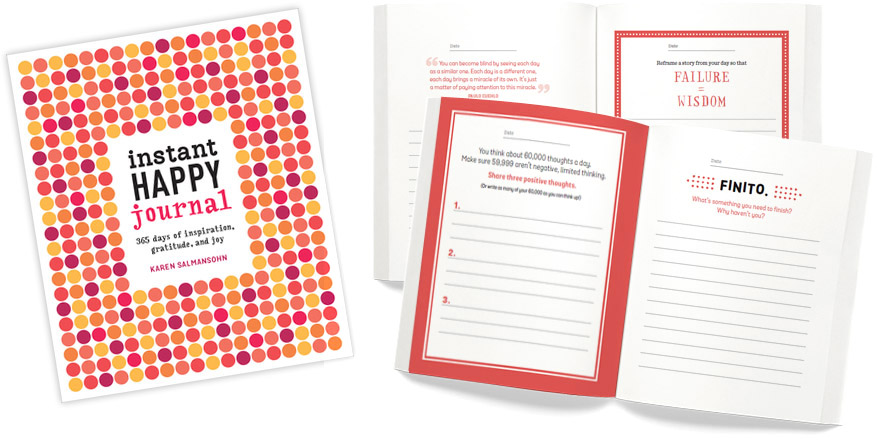 Disclosure: This post contains affiliate links, which means I receive a percentage of each sale when you make a purchase using these links; however, I fully support and recommend each of these products.  You can view my full disclosure policy here.
So first I just have to start off by saying this is my first journal review.  Usually I prefer to read books by my favorite authors and review them; however, when I saw the Instant Happy Journal, I just couldn't resist.  I had to have it.  And if I had to have it, then I can't not review it, right??
A Little Background
Most people who know me know that I love to journal.  Earlier this year, I picked up a journal again for the first time in seven years, but prior to that I wrote in a journal most days from the time I was 8 years old until the time I was 20.  As of right now, I am writing in my 26th journal.  So my point is that journaling is close to my heart.
Another thing I have been working on lately is becoming more positive: catching myself when my thoughts are mostly negative and trying to come up with something that I am thankful for or something that makes me happy to put me in a more positive mood.  Let me just say that The Instant Happy Journal is just perfect for what I'm trying to do!
Why the Instant Happy Journal?
Obviously I haven't filled The Instant Happy Journal yet, because it's intended to be used over a period of a year, but on the days that I am feeling quite grumpy and need some help figuring out what I am thankful for or what makes me happy, this journal provides prompts, encouraging quotes, and bright colors that boost your mood.  Even one of my step daughters looked through it and decided she wanted her own copy!
I'd definitely recommend this journal to anyone looking for a different way of journaling, those who are striving to have a more positive outlook on life, or those who may just need help finding a more positive outlook on life, and it's a great gift for any occasion.  Definitely pick up the Instant Happy Journal.  It can be found on Amazon as well as many major retailers.