Loaded Baked Potato and Chicken Casserole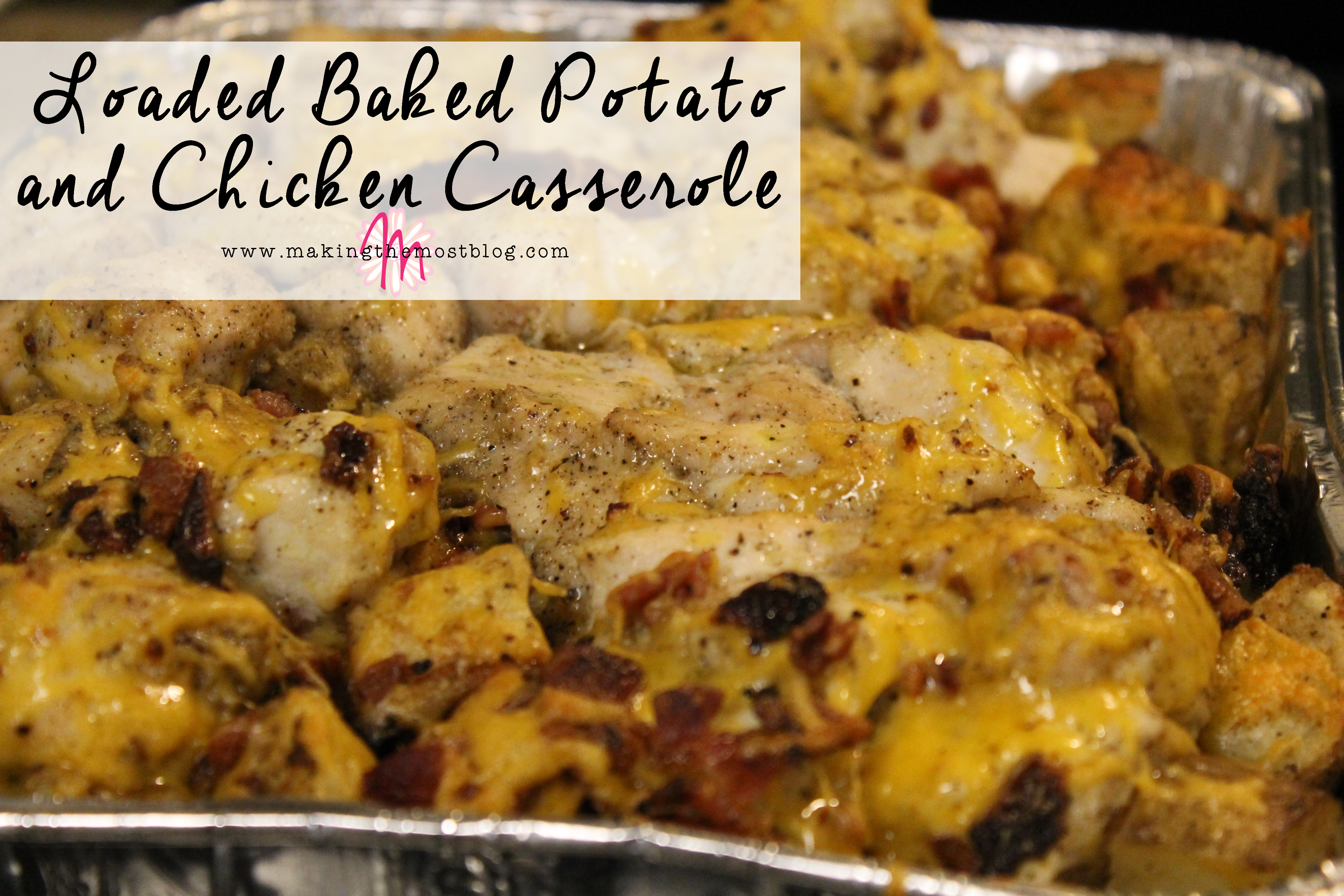 Let me just start out by saying this is most definitely one of my most favorite dishes…ever!  Oh my goodness I loved it.  And so did Prince Charming and Rapunzel.  I would definitely make it again.  (Just don't eat this if you're on a diet!)
This recipe was adapted from  Cook Lisa Cook's Loaded Baked Potato and Buffalo Chicken Casserole.  Since our kids are so picky about their spicy food, I essentially just removed the "buffalo" part.  Here's the recipe:
Ingredients:
2 lbs boneless, skinless chicken breasts, cut into 1/2-inch cubes
8-10 medium potatoes, cut into 1/2-inch cubes  (I leave the skin on)
1/3 cup olive oil
1 1/2 tsp. salt
1 TBS. freshly ground pepper
2 TBS. garlic powder
4 TBS. butter, melted
Topping:
2 c. Cheddar Cheese
1 c. crumbled bacon  (we just use one full pack of thawed bacon and cut it up into small pieces.  Or cook the bacon and crumble it ourselves.)
Instructions:
Preheat oven to 500F.
In a large bowl, mix together the olive oil, salt, pepper, garlic powder, & butter.  Add the cubed potatoes and stir to coat.
Spray a 9 x 13 inch baking dish with cooking spray.  Carefully scoop the potatoes into a the dish, leaving behind as much of the olive oil/butter mix as possible.  Bake the potatoes for 45-50 minutes, stirring every 10-15 minutes, until cooked through and crispy & browned on the outside.
While the potatoes are cooking, add the cubed chicken to the bowl with the leftover olive oil/butter and stir to coat.  Let sit in order to marinate.
In a bowl,` mix together the cheese and bacon (if desired), and top the raw chicken with the cheese mix.
Once the potatoes are fully cooked, remove from the oven and lower the oven temperature to 400F.  Top the cooked potatoes with the raw marinated chicken.   Return the casserole to the oven and bake for 15 minutes or until the chicken is cooked through and the topping is bubbly (we baked for 20 minutes because the bacon was not pre-cooked).
I hope your family loves this recipe as much as we do!  For the spicy version, visit the recipe link above.