Nacho Skillet Casserole Recipe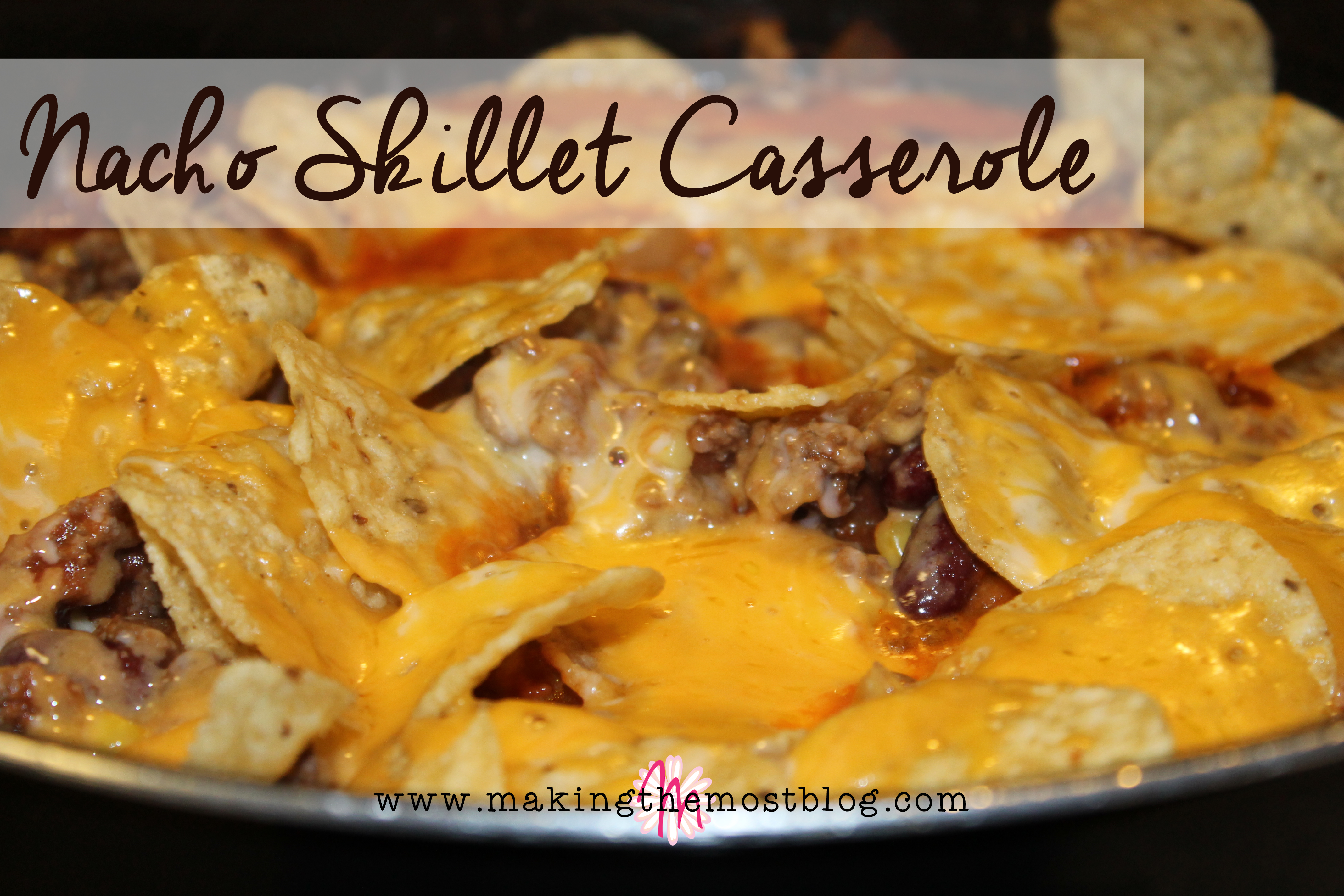 I was so thankful a couple of weeks ago to make yet another successful recipe.  Most of the family enjoyed this one, as it is very similar to taco soup, which has also been a favorite at our house.  This one is called Nacho Skillet Casserole, and it's so quick and easy for the nights that you just don't have time to put a lot together.  Since you are quite possibly in a hurry as we speak, I'll get down to the nitty gritty.
Here's what you need:
1 lb. ground beef
1 medium onion, chopped
1 tsp. sugar
1/2 tsp. dried oregano
1/2 tsp. chili powder
1 – 15.5 oz. can kidney beans, drained
1 – 15.5 oz. can tomato sauce
1 – 11 oz. can Green Giant SteamCrisp Mexicorn whole kernel corn, red and green peppers, undrained
2 c. tortilla chips
1 c. shredded mexican-style cheese (or to keep it on the less spicy side, use 1/2 c. shredded mexican style cheese and 1/2 c. shredded cheddar cheese)
Here's what you do:
In a large skillet, cook ground beef and onion together over medium-high heat for 5-7 minutes, stirring occasionally, until the beef is thoroughly cooked.
Drain.
Stir sugar, oregano, chili powder, kidney beans, tomato sauce, and corn into beef and onion.
Simmer 10-20 minutes, stirring occasionally, until sauce is at desired consistency
Layer tortilla chips evenly over mixture.
Top chips with cheese.
Cover.
Simmer 2-3 minutes or until cheese is melted.
Serve.
Two of my kids didn't like the "soggy" chips on top, but I gave them some tortilla chips on the side to scoop up the mixture like taco soup, and they were pretty much okay with that.  We also added some extra cheese when we had dished out our meals, as we like our food extra cheesy.