God Gave Us Sleep: A Book Review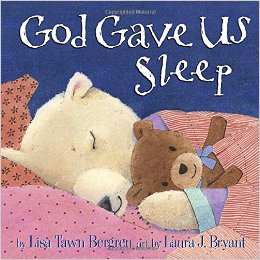 Disclosure: This post contains affiliate links, which means I receive a percentage of each sale when you make a purchase using these links; however, I fully support and recommend each of these products.  You can view my full disclosure policy here.
When Princess Anna was in preschool, we ordered a book from the Scholastic Book Catalog called God Gave Us Easter by Lisa Tawn Bergren.  We liked that book so much that, when given an opportunity to read another of Lisa's books, I was definitely interested.
God Gave Us Sleep, the latest of Bergren's books (released on September 8, 2015) is a children's book in which a mother bear teaches her young cub about the importance of sleep using the concept that God created us for a need to rest and sleep while he also gave us energy to work and play.  Little Bear also learns by experience the importance of getting a full night's rest when she has problems following a night of little sleep.
I had my own children read through this book (ages 6, 8, 14, and 16) as well as my nephew, who is 1 1/2.  I thought this was a cute book with a good story line and fantastic pictures.  All of my children (even the teenagers!) agreed.  My nephew, who rarely sits through much of a book, sat down for almost all of this one.
I have the feeling that God Gave Us Sleep will be one that we read over and over again, and my hope is that my own kids will eventually learn to fall asleep at bedtime, because that's how we are made.  (We'll see how that goes.)  In the meantime, I hope you'll pick up this book at your local library or on Amazon to share with your own kids.
I'd love to hear how you liked the book!  Feel free to share in the comments below.