Reading List Review: August 2016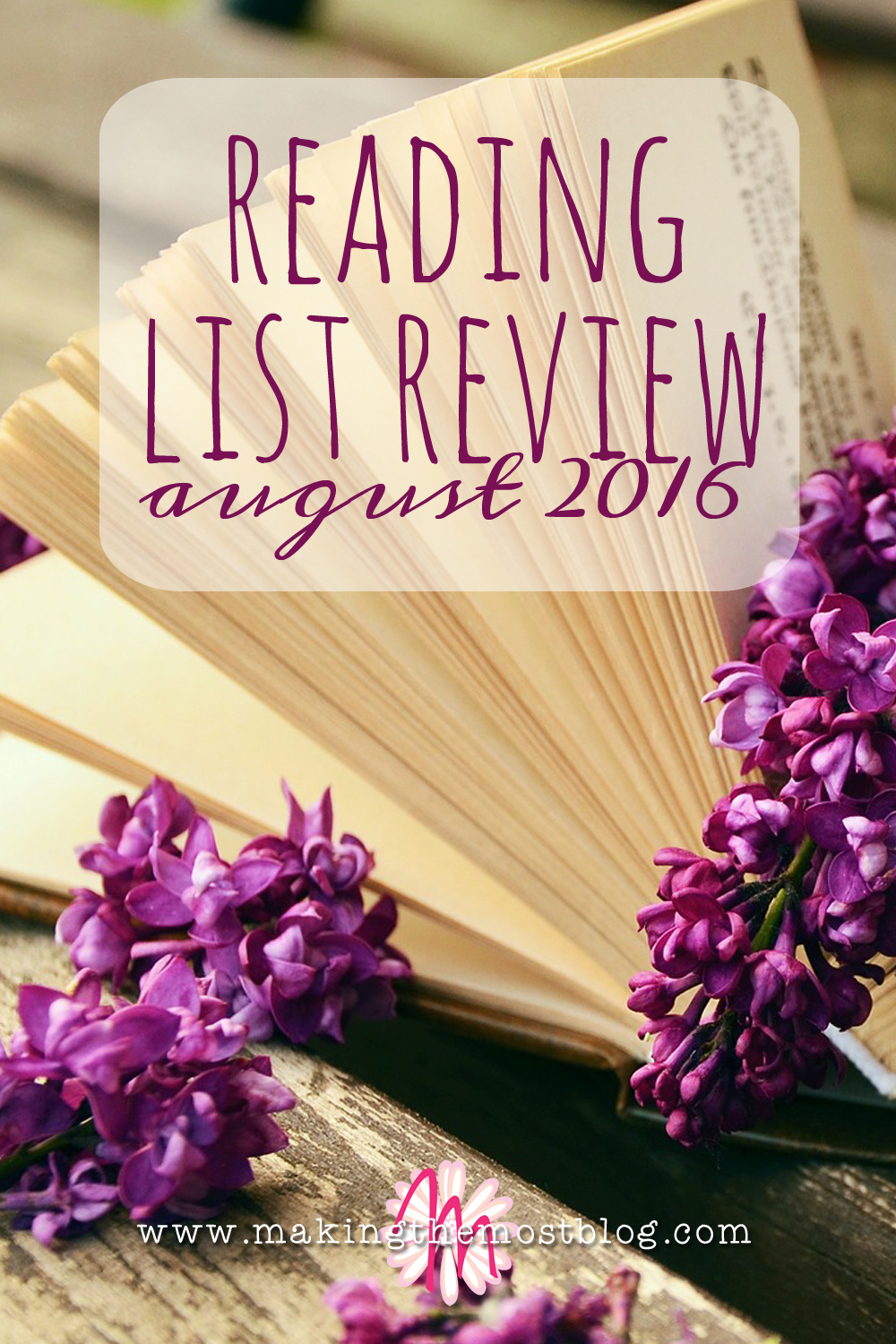 This month, I have to say I'm pretty pleased with the amount of reading I accomplished, considering I started late.  I probably started really reading again around the middle of the month and really got a lot done.  So without further ado..
Here's what I read during the month of August (click links for the review):
Chase the Lion by Mark Batterson
What I'm Reading Now:
Undefiled: Redemption From Sexual Sin, Restoration for Broken Relationships by Harry Schaumburg
Becoming a Woman of Excellence by Cynthia Heald
Uninvited by Lysa TerKeurst
The Happiness Dare by Jennifer Dukes Lee
Looking Forward to Reading:
Raising a Young Modern-Day Princess by Doreen Hanna and Karen Whiting
If by Mark Batterson
DNA of Relationships by Gary Smalley
The Promise of Security by Beth Moore
In Between by Jenny B. Jones
The Promises of God by R.C. Sproul
Reimagining Church by Frank Vida
The Seeds of Beauty by Lakeysha-Marie Green
Fun Loving You by Ted Cunningham
Follow Me? by David Platt
The Beginning by Karen Kingsbury
Boundaries with Teens by John Townsend
Praying Circles Around Your Children by Mark Batterson
Too Blessed to be Stressed by Debora M. Coty
Kingdom Woman by Tony Evans
Rising Strong by Brene Brown
4 Seasons of Marriage by Gary Chapman
The Girl on the Train by Paula Hawkins
Sparkly Green Earrings by Melanie Shankle
Vertical Church by James MacDonald
Is the Bible True…Really? by Josh McDowell
Grief Observed by C.S. Lewis
Devotions I'm Reading This Year:
Praying God's Word Day by Day by Beth Moore
What did you read last month?