Reading List Review: June-July 2016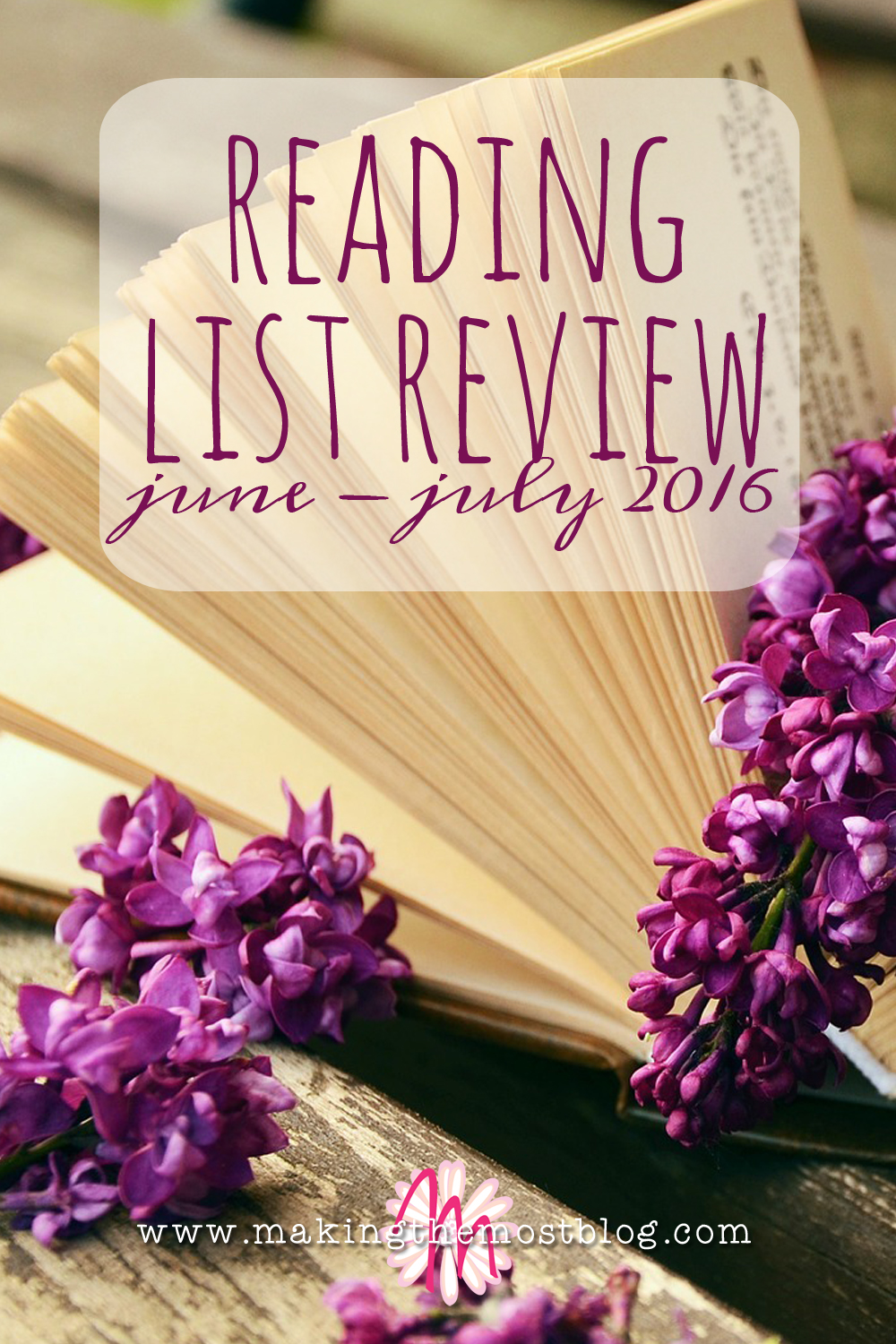 I have to admit, I'm pretty disappointed with the amount of reading I accomplished between June and July–or lack thereof.  All of these side hustles I've been working on leave me little time for reading.  I'm finishing up the most time-consuming one next week, though, so hopefully my next review will be a little longer.
Here's what I actually got around to between June and July:
The Longing in Me by Sheila Walsh
Beauty Begins: Making Peace with Your Reflection by Chris Shook & Megan Shook Alpha
What I'm Reading Now:
Undefiled: Redemption From Sexual Sin, Restoration for Broken Relationships by Harry Schaumburg
Heart Made Whole: Turning Your Unhealed Pain Into Your Greatest Strength by Christa Black Gifford
Becoming a Woman of Excellence by Cynthia Heald
Giddy-Up Eunice: Because Women Need Each Other by Sophie Hudson

Looking Forward to Reading:
Raising a Young Modern-Day Princess by Doreen Hanna and Karen Whiting
DNA of Relationships by Gary Smalley
The Promise of Security by Beth Moore
In Between by Jenny B. Jones
The Promises of God by R.C. Sproul
Reimagining Church by Frank Vida
The Seeds of Beauty by Lakeysha-Marie Green
Fun Loving You by Ted Cunningham
Follow Me? by David Platt
The Beginning by Karen Kingsbury
Boundaries with Teens by John Townsend
Praying Circles Around Your Children by Mark Batterson
Too Blessed to be Stressed by Debora M. Coty
Kingdom Woman by Tony Evans
Rising Strong by Brene Brown
4 Seasons of Marriage by Gary Chapman
The Girl on the Train by Paula Hawkins
Sparkly Green Earrings by Melanie Shankle
Vertical Church by James MacDonald
Is the Bible True…Really? by Josh McDowell
Grief Observed by C.S. Lewis
Devotions I'm Reading This Year:
Praying God's Word Day by Day by Beth Moore
What did you read last month?