Savory Daniel Plan Chicken Bites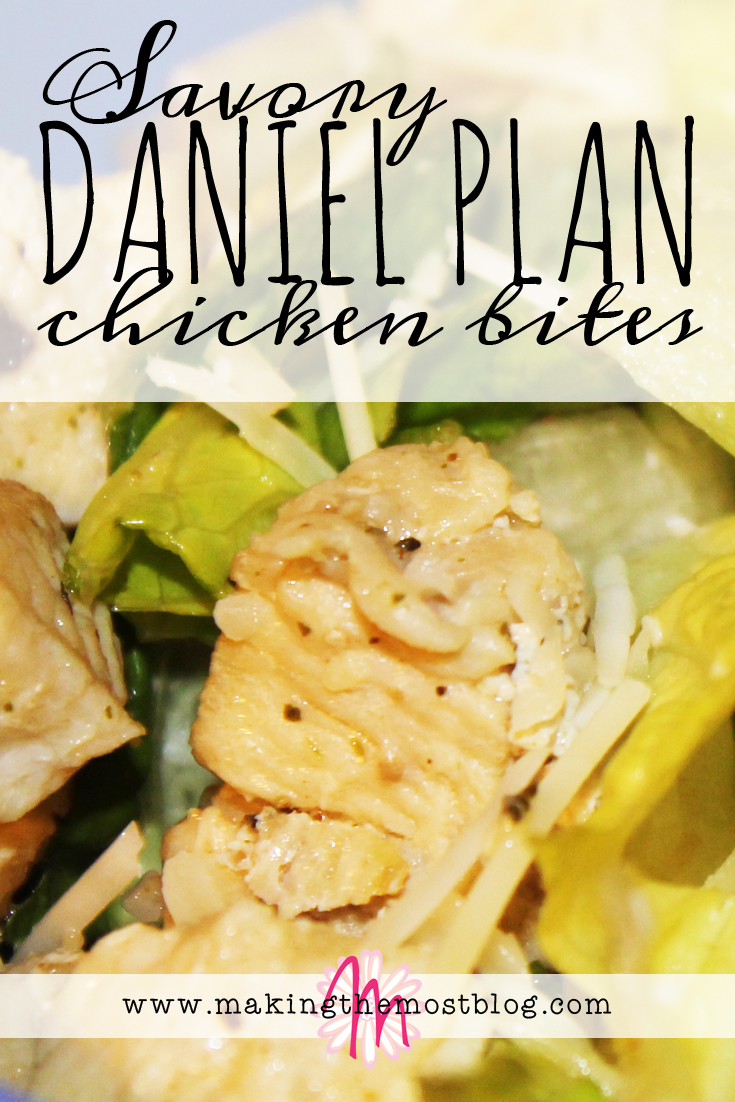 When I started the Daniel Plan on February 10th, I was all gung ho about how good I was going to do on this plan and how easy it was going to be with the recipes from the cookbook along with eating fresh fruit and veggies.  I was going to be a pro at this thing.  Until I ate too much of the same stuff every day.  Which made it harder and harder to continue.
The solution: come up with some of my own recipes using organic and/or natural products.  I experimented a couple of times and modified some recipes.  Now, I'm so excited about all of the yummy food I've made, that I just had to share some of my recipes with you!
One of the recipes I find myself using over and over again is for these Savory Daniel Plan Chicken Bites.  Not only are they so delicious, but they are juicy and all natural!  They're great for just eating with rice or as a topping for salad.  As a side note, this recipe takes about 10-15 minutes to make and creates about 2 1/2 servings.
Here's what you need:
1 large chicken breasts
Extra-virgin olive oil
1/2 tsp. sea salt salt
1/2 tsp. Simply Organic all-purpose seasoning
Pepper, as desired
Here's what you do:
Cut the fat off of the chicken breast (extra fat kind of defeats the purpose of eating healthy)
Cut the chicken breast into half-inch cubes
Pour olive oil into a frying pan until the bottom is covered with about a 1/4-1/2 -inch of oil and heat on medium-high setting.
Add cut chicken breasts, making sure that none of them are piled on top of one another (so that they all cook evenly)
Sprinkle sea salt, all-purpose seasoning, and pepper (if desired) evenly over chicken.
Fry chicken for 5 minutes.
Lower heat setting to medium.
Flip chicken with a fork, and fry for an additional 3 minutes.
Drain oil from chicken and serve!
I hope you love this recipe as much as I do!  I'd love for you to share your comments below!