Small Shop Saturday: Featuring Little Bits Homemade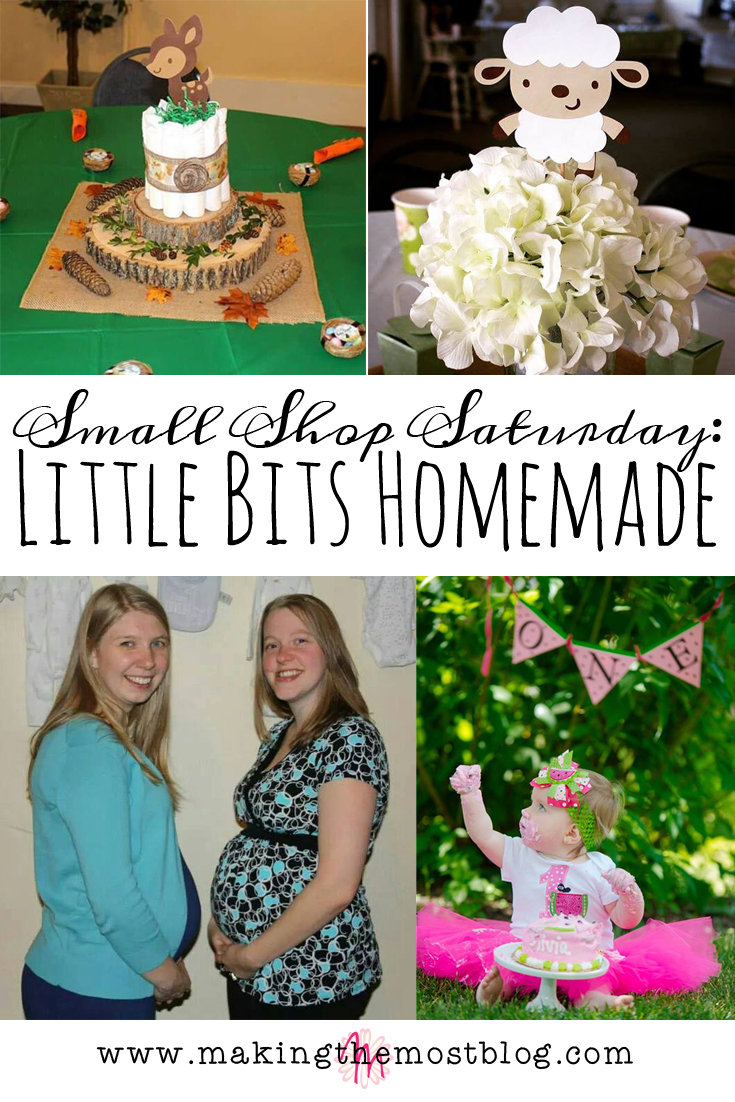 Today, I am so SO excited to do my very first Small shop Saturday and to feature one of my friends from high school!  Sara and I were in a sewing class together and, thanks to Facebook, we've been able to keep in touch.  So when I decided to feature a small shop, naturally she was the first person who came to mind.  What I'd like to do is introduce Sara and her business partner, Kayla, and let them tell you about their business in a little Q&A session.  Make sure you read through to the end, because there is a special surprise waiting for you!
I can't wait to tell you all about her business!  So without further ado:
Q: Who is Little Bits Homemade (LBH)?
A: We're just your average mid- to late- 20-something girls.  We believe in God's word, we think the world of our families, and we struggle to find the balance between family, housework, and work.  If you have figured out how to get more than 24 hours in a day, please share!

Q: How did you get your name, Little Bits Homemade?
A: Sara here!  My name is Sara Elizabeth.  As a child, if you asked me my name, my response was always Sara Little-bit Day!  I wasn't being cute.  It was really what I thought my name was.  To this day, a few family members still call me Sara Little-bit.  I always dreamed of opening up a homemade shop: Little Bit's Homemade just made sense. When Kayla and I decided to team up, we thought the name still worked.  We make a little bit of this and a little bit of that, so we dropped the apostrophe and never looked back!

Q: How did the idea for the shop come about?
A: In high school, we would often daydream about having a business together or at least working together.  I don't think either of us actually thought it would happen.  Both of us helped friends plan and decorate for parties and weddings, and we were always being told we should start a business.  We took it as a compliment but never really talked about it.  One day Kayla, texted Sara and said something like, "We could start something and see where it goes."  That weekend, we got together, wrote up a business plan, and started thinking about what we wanted to create.  A month later, our shop was up and running!  You could say we have some drive.

Q: What do you sell?
A: Party decorations!  Overall, we sell centerpiece stakes, banners, cupcake toppers, and garlands.  We have a variety of themes available, and we're working on adding more to the shop!  Last year, our best sellers were two banners. "From Miss to Mrs" was used at bridal showers.  Some brides also rearranged it to say "Mr." and "Mrs." at their sweetheart table.  Our other best seller was "Thank You".  That was most commonly used for wedding photos.  This year, our best sellers are our new centerpiece stakes.  Typically, they are used at kid's birthday parties and baby showers.  It's been interesting to see the shift in popularity.

Q: On what outlets do you sell? (Just Etsy, or other?)
A: Currently Etsy is our only "storefront".  Every year, we plan to set up at a local event called "Christmas in Loganville".  It's a great community event, and we're able to help organize our church's part of the event.

Q: Do you sell out of state, just in the US, or internationally?
A: Currently we sell across the US. When we ship to Hawaii we always contemplate hand delivering.

Q: How are the products used?
A: Typically, our products are designed for parties, showers, and weddings.  However, we see them recycled pretty frequently.  Baby shower decor often pops up in the nursery.  Bridal shower decor gets reused at the reception.  We even had a newlywed teacher use a banner from her bridal shower in her classroom.  We love to see our products used and reused!

Q: What is the price range of your products?
A: Our prices are roughly $10-$30. It varies, because we do a lot of custom orders.

Shop: www.etsy.com/shop/littlebitshomemade
Facebook: www.facebook.com/littlebitshomemade
Instagram: @littlebitshomemade 
Right now, Little Bits Homemade is offering 10% off for all of my (Whitney) readers! Use the code VIP10 at checkout.
Please stop over at Little Bits Homemade and check out their shop!  Just don't forget your discount!  And great big thanks to Sara and Kayla for letting me feature you for my first Small Shop Saturday!