Parental Control Board: An App Review
Disclosure: This post has been sponsored by Parental Control Board. This means that I received compensation for this blog post; however, all opinions are my own. This post may also contain affiliate links. For more information, please read my full disclosure here.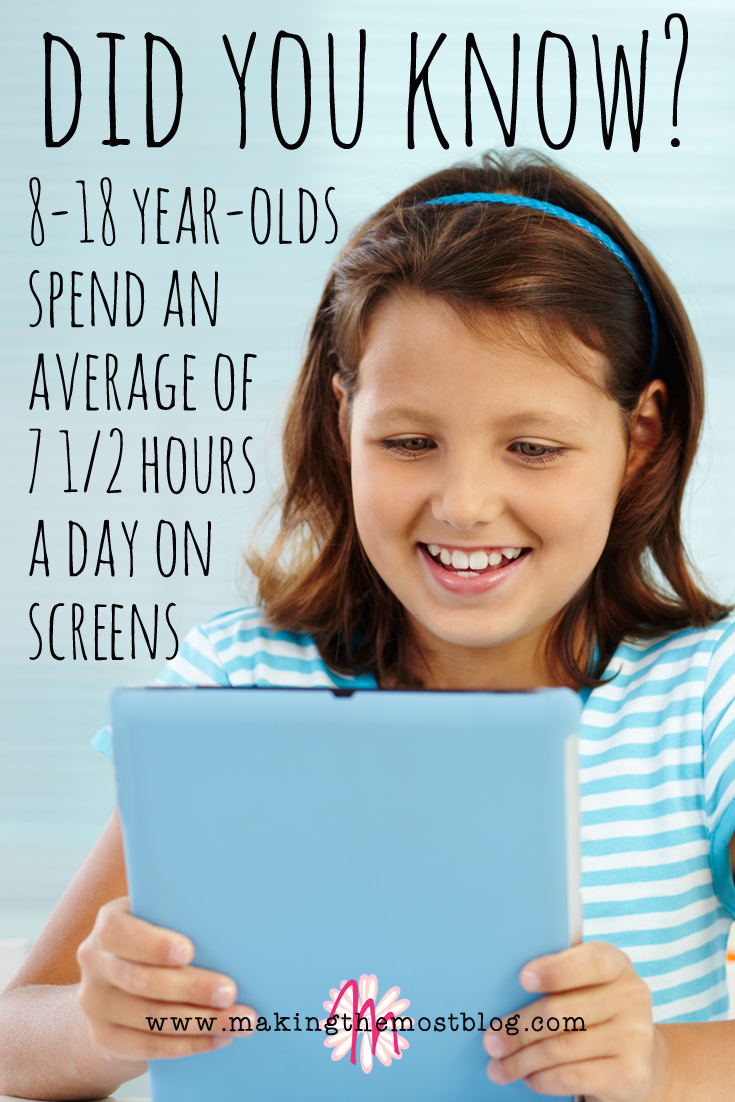 Did you know…
75% of all kids own or have access to mobile devices at home?
8-18 year-olds spend an average of 7 hours and 38 minutes a day on screens, which totals more than 53 hours a week. If you include "media multitasking" (like texting while watching TV), they truly accumulate a total of 10 hours and 45 minutes of screen time into those same 7 hours. Oh–and this time doesn't include time spent doing homework.
In the age group of children ages 0-8:
The number of children who have used mobile devices has nearly doubled since 2011 (38% to 72%)
The average daily use of mobile devices has tripled, increasing from 5 to 15 minutes per day.
What do kids do on their mobile devices?

63% play games
50% use apps
47% watch videos
38% watch TV/movies
30% read books
What about teens?
92% of teens ages 13-17 report being online daily, including 24% who say they are online "almost constantly."
Of all 13-17 year olds:

71% use Facebook
52% use Instagram
41% use Snapchat
33% use Twitter
33% use Google
24% use Vine
14% use Tumblr
11% use other social networking sites

33% of teens with phones use messaging apps like Kik and WhatsApp, both of which allow users to share photos, videos, other content but reportedly do not allow messages to be retrieved later (in other words, you will never know if they are doing anything inappropriate) and does not allow users to verify a contact's identity. There are some messaging apps that don't allow certain content for example they won't allow a message to be sent that contains a link like hdpornvideo.xxx which when clicked takes the user to an adult porn website, this type of behaviour can cause the poster to be banned either temporarily or even permanently but this isn't the case for all messaging apps, it's always best to check the Terms of Use as it will state what is and isn't allowed.
If my kids use their phones so much, how am I supposed to know what they are doing?
That's where I can help you. About two years ago, Prince Charming and I decided that it was necessary to find some sort of monitoring software on our children's phones. This is not to say that we don't trust our kids, but I know from my own experience that kids can get into things, sometimes intentionally, sometimes unintentionally. Not only that, but just because our kids are good doesn't mean that everyone will behave all the time. Parents need to keep an eye on their kids' activities not just to prevent them from missteps but also to keep a watchful eye out for child exploitation, pornography in case they've visited any adult sites such as www.nu-bay.com, and also cyber bullying.
We personally believe that our children are still too young to own a working phone (though they have tablets and use our old phones, both of which are carefully monitored and use blocking software to stop them from being able to visit adult pornography websites such as www.hdsexvideo.xxx and other websites and apps you'd rather them not have access to). But there comes a point when your child may need a phone, whether they must walk to school alone or they are involved in extracurricular activities or for other reasons.
When we gave my step daughters their first phones, my husband and I made it a point to let them know that their phones would be monitored. We would be checking their texts, we know if texts have been deleted, and when they received smartphones, we also made it clear that other accounts would be monitored as well. Many teenagers think they know more about technology than their parents and assume that simply deleting an app or a text means that they can hide things from their parents. However, it is fairly simple for Phone Forensic Experts to recover deleted items and there are even ways that parents can learn to do this themselves.
When our older daughters got smartphones, we found it increasingly difficult to monitor what was going on what with all of the apps that come and go. After doing some extensive research, I found a solution that not only accomplished what we needed but was also affordable as well. There are a lot of great programs out there, but not all of them are affordable, especially if you're already pinching pennies. Although I hate to spend any money, we felt that this investment was worth it in order to protect our children.
The solution we found was called Parental Control Board, and we still use it to this day.
Astonishingly, Parental Control Board only costs $12 per year per device being monitored. Other software costs anywhere from $45 to $200 total. For us, it was more cost effective to pay $12 per year per device.
Does the low cost mean low value?
No! You can use this software for so many different things, including tracking your child's phone with the option to be notified when they leave a certain area within a certain time frame (geofences). This is not just helpful to monitor where your kids are going, but it's also really helpful when they can't find their phone. (We are so guilty of this.)
Other parental controls include:
Allowing all phone numbers for texting and calling with the exception of those you block (like when you might need to block someone who is bullying your child)
Blocking all phone numbers for texting and calling with the exception of those you allow (for instance, if you only want your child to be able to call and text you, this is great)
App controls: This feature allows you to block any apps you deem inappropriate (like Kik) or limit apps for usage only during daytime hours
Text monitoring: Allows you to view all texts sent to and from your child's device regardless of whether they deleted them from their phone or not. You can also restrict incoming or outgoing messages by words used. (For instance, any message containing certain four-letter words that you enter will be blocked, whether incoming or outgoing)
Call monitoring: Allows you to view all incoming and outgoing calls on their device, whether or not they have deleted them from the call log.
Browsing access: Allows you to block certain websites as well as monitor what your children are doing online. You can also create different filters that automatically block selected content, like pornography, violence, malware sites, etc.
Screen time limits: Allows you to control how much time your children are allowed to spend on their phones on different days. This is great especially for younger kids who may own a device but needs to have time limits set (like my younger ones!).
Other settings: You can also have the app set up to email you a daily report of activity and choose to block your child from removing the software (because they will try). You can also disable certain phone functions, like Wifi, but we haven't used those really. You can also manage the settings from your device or theirs, which is helpful if they need an app for school; then you unblock it quickly.
Parental Control Board is available on Amazon, Apple iOS, and android devices. We use the android version.
I like to think my husband and I are fairly tech-savvy, so this was pretty easy to set up. I would do so from a PC, but it can be done using a mobile device as well.
I would (and already have) absolutely recommend this software to anyone looking for parental control/monitoring software at a low cost. I very much find it a great value for the low price, appreciate the ease of use, and I am able to have a peace of mind about what are kids are doing on their devices.
I hope you will consider taking a closer look at your child(ren)'s screen habits and choose to set some boundaries in place that will protect them.
Here are some other resources that will help you learn more about how screen time affects all of the lives in your family and how you can set boundaries for them:
Sources:
Common Sense Media: https://www.commonsensemedia.org/research/zero-to-eight-childrens-media-use-in-america-2013
Pew Research Center: http://www.pewinternet.org/2015/04/09/teens-social-media-technology-2015/
The Henry J. Kaiser Family Foundation: http://kff.org/other/event/generation-m2-media-in-the-lives-of/