Trades of Hope: Product Review

Disclosure: This post has been sponsored by Rachel Cunningham, Compassionate Entrepreneur for Trades of Hope.  This means that I received compensation for this blog post; however, all opinions are my own.  This post may also contain affiliate links.  For more information, please read my full disclosure here.
What is Trades of Hope?  Trades of Hope is a fair trade company that works to helps women across the globe by marketing handmade products through the home party model across America.  Trades of Hope was founded by two moms and their daughters who wanted to change the world and empower women.  Thus, Trades of Hope was born.  Many of the women (called artisans) who create the products for Trades of Hope have been rescued from sex slavery and/or are seeking to survive severe poverty, single parenting, life in war-torn countries, and diseases like AIDS and leprosy.  Through Trades of Hope, these women make an honest living that they can take pride in.  The income these artisans earn allows them to afford basic necessities like food, housing, medical care, education, and business supplies.
What is Fair Trade?  According to Merriam-Webster, fair trade is, "a movement whose goal is to help producers in developing countries to get a fair price for their products so as to reduce poverty, provide for the ethical treatment of workers and farmers, and promote environmentally sustainable practices."
How does Trades of Hope contribute?  40% of the world's population exists on $2 per day.  Trades of Hope artisans currently make 6 times more than they would normally make in similar occupations in their countries; however, Trades of Hope is not a charity or a non-profit.  The direct sales company "serves as a link in the chain to create sustainable business for both women in underprivileged countries and women in America."  Their artisans receive 100% of the asking price of their products in order to make a fair wage.
How can I help?  There are three ways you can contribute to this ministry: host, shop, or join.
Host: Just like any direct sales company, there are plenty of opportunities to purchase their products, which include scarves, handbags, jewelry, decor, and stationery.  Hop on over to Rachel's page to shop now.
Shop: If your shopping list is way too long (or if you just love a great deal!), you can also host a party.  Hostesses receive anywhere from $15-$200+ in free merchandise and up to 4 half-price items when they host a qualifying party.  If this sounds like something that works for you, stop by Rachel's page and click on the "Host" tab at the top of the page.
Join: You can also be a part of this great opportunity by signing up to help sell these products as a Compassionate Entrepreneur.  You can do that by visiting Rachel's page and clicking on the "Join Us" tab at the top of the page.  Compassionate Entrepreneurs earn 20-35% commission on retail sales as well as leadership commissions upon promotion.  The kit is available for $99 and includes 8 fair trade products.
Product Review: I have to say that I love that this company is focused on empowering women and helping those less fortunate at the same time.  I think it's great that they are allowing more opportunities for women to climb out of poverty by giving them responsibility instead of a handout.  At the same time, Trades of Hope provides opportunities to women in the United States by allowing them to work on their own schedule and earn an income essentially from home.
I couldn't believe how many products are available with Trades of Hope!  When I first went to the site, I was only expecting jewelry.  Instead, I found a plethora of items to choose from–and that's not a bad thing!  Product at Trades of Hope are unique in design, but also likeable.  Here are some of my favorites:
This month, Trades of Hope is offering the 50% off of the Beachcomber Necklace when you spend $50 from July 15th-August 15th.  Swing by Rachel's page to take advantage of this time-sensitive sale!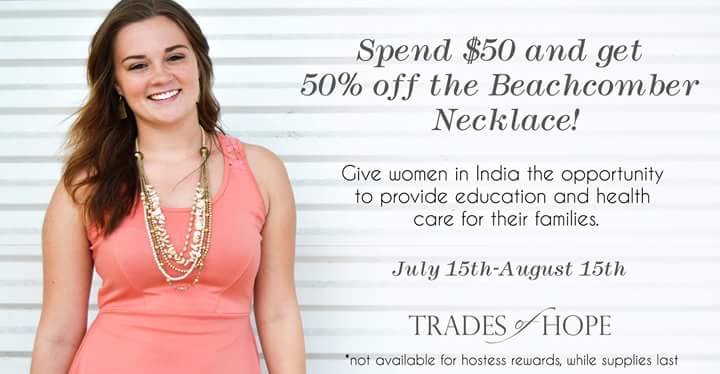 About Rachel:  Rachel, our Compassionate Entrepreneur, is a homeschool mom to three children ranging in age from 3-7.  Rachel has been involved in direct sales for quite a while but says she never had as much passion for her product until Trades of Hope came into her life.  Rachel is passionate about helping others by sharing the word of God and providing hope to others–especially women.  For her full bio, visit her page by clicking here.
For more information about Trades of Hope, or to purchase products, host a party, or sign up to sell, you can contact Rachel at (805) 390-3291 or at [email protected].